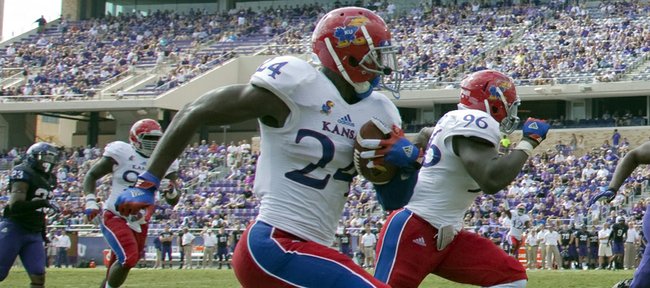 Podcast episode
Kansas coach Charlie Weis talks to reporters after his team's 27-17 loss to TCU on Oct. 12, 2013.
Fort Worth, Texas — Although the Kansas University offense struggled mightily, once again, during KU's 27-17 loss to TCU on Saturday, the defense delivered more than its share of quality moments.
Few were as impressive as junior cornerback JaCorey Shepherd's pick-six interception return for a touchdown in the second quarter that tied the game at 10 and marked the wide-receiver-turned-defensive-back's first career interception.
"Basically, I just read the quarterback's eyes," Shepherd said of the play following the loss. "I saw he was going to throw it and I just broke on it."
Shepherd, who hails from Mesquite, Texas, has had his eye on a moment like Saturday's ever since he switched over from offense to defense last season.
"It felt real good, especially being back home," said Shepherd, who entered Saturday as one of the Big 12's leaders in pass breakups. "I had a lot of family here and I've just been wanting (an interception) so bad. I've been telling everyone when I get one I'm gonna take it back."
While Shepherd's interception went down as a personal highlight that he won't soon forget, the game's outcome weighed more on his mind.
"It's tough," he said. "We left a few plays out there. At times we get a little tired, but as a defense, that's what you do. It shouldn't matter what field position you're in or what the offense does, your job is to go out there and stop them."
As for his view of Shepherd's big play, Weis shared what went through his mind as it happened.
"JaCorey was standing right in front of me," Weis recalled. "And if he didn't intercept it I might've tackled him myself."
Pierson sits
As expected, KU running back/wide receiver Tony Pierson watched Saturday's game from the sideline in street clothes, out of action after suffering a concussion last week in KU's loss to Texas Tech.
Asked how much not having Pierson hurt his offense, Weis did not downplay the junior's absence.
"Well, he's your No. 1 open-field playmaker and when he's not there it's noticeably different," Weis said. "But knowing that when you're game-planning is a little bit easier than losing him during the game."
Injury update
Three of KU's most important players all left the field with injuries on Saturday and two of them missed significant time.
Linebacker Ben Heeney and receiver Andrew Turzilli did not play after getting knocked out of the game, Heeney after a cut block from a TCU offensive player and Turzilli after hauling in a 50-yard reception on his only catch of the game.
Weis did not know the status of either player following the game but said losing both was a big blow.
"I talked to him on the sideline," Weis said of Heeney. "I said, 'You OK?' And he goes, "It doesn't feel right.' I said, 'What do you mean?' He said, 'I can't go.'"
As for Turzilli, Weis did not have specifics on his injury but did know that it forced him to crumple up part of Saturday's playbook.
"We had a bunch of deep balls game-planned for him in this game and the first one we throw to him he goes up and takes the ball away from a No. 1 draft choice for a 50-yard gain and then he comes up lame. It was a little depressing because those other guys just don't run as fast as him."
Added KU quarterback Jake Heaps of losing his deep threat: "We had Drew as a big-time part of our game plan. There's that added dimension that Drew brings that we wanted to utilize."
KU defensive back Dexter McDonald also briefly left the game with an injury in the second half before later returning.
This and that ...
The Jayhawks lost Saturday's opening coin toss for the fifth game in a row and TCU chose to defer its choice to the second half. KU elected to receive the game's opening kickoff. ... KU senior Nick Sizemore recorded his first career rush, a three-yard gain in the first quarter. ... KU fell to 8-18-4 against TCU all-time, including a 2-8-2 mark in Fort Worth. ... Temperature at kickoff was 82 degrees, under mostly cloudy skies with winds of 8 mph out of the southwest.