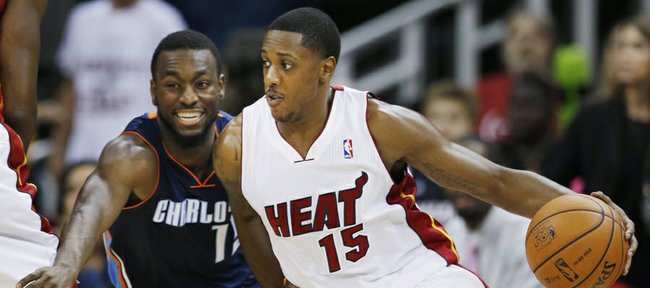 Kansas City, Mo. — A slimmer, trimmer version of Mario Chalmers ran the show for the two-time defending NBA champion Miami Heat on Friday night in Sprint Center.
The 6-foot-2 hero of Kansas University's 2008 NCAA title victory over Memphis has reported to camp for his sixth professional season at a svelte "197 or 198" pounds — down 10 pounds from last June, when he helped the Heat overcome the San Antonio Spurs in a seven-game Finals.
"Just trying to slim up for the season ... trying to figure out how to better the team and better myself. I figured one of the ways was to get lighter, quicker," said Chalmers, who said he last weighed so little during his sophomore season at KU.
He started at the point, scoring 10 points and dishing four assists with two steals in the Heat's 86-75 victory over the Charlotte Bobcats before a sellout crowd (18,770) that included thousands of KU fans, as well as coach Bill Self and several Jayhawk players.
"No fried foods, no sodas, lemonade. I drank a lot of water instead of orange juice and lemonade all day," he added of the secret to the Mario Diet. "Basically, cutting out a lot of sugars. It was tough at first. You know me ... I love my sweets. It was something I had to do."
Heat coach Eric Spoelstra applauded Chalmers for his dedication at the still-tender age of 27.
"He came in very fit. Our group was dedicated this summer," Spoelstra said. "We had a meeting after the championship parade, before we set off on our own ways that we wanted to commit to each other eye-to-eye (that) the guys would enjoy the championship, because that's part of it, but not to let it go — to be very conscious of fitness, nutrition.
"Our guys took it to heart. That's allowed us to get into the work aspect of it quicker rather than worrying about using October to try to get into shape."
Chalmers, as one might expect, was a huge fan favorite on Friday night. He received thunderous applause during pre-game introductions, LeBron James' ovation taking backseat to one for the KU hero.
"I love being back in front of Jayhawk fans," said Chalmers, who scored the Heat's second bucket of the game off a driving layup. He had one of his patented steals and a breakaway layup with four minutes left before half.
He was unable to make it back to Lawrence on Friday for a visit, the Heat's plane having arrived in KC early Friday morning. Chalmers elected to relax at the hotel in preparation for the game.
He has yet to play with or against KU freshman sensation Andrew Wiggins, but was willing to offer some advice for the certain one-and-done player.
"Have fun," Chalmers said. "College is a learning experience, a chance for you to grow up and get away from home. For him ... have fun, play basketball, do your schoolwork and enjoy college."
Chalmers said Wiggins figures to feel the pressure — the heat, so to speak — the first game or two.
"No matter what the hype is, that first game there's going to be jitters," said Chalmers, who has career averages of 8.4 points (42.1 percent shooting; 37.0 from three), 3.6 assists and 27.1 minutes. "Our first (KU) game was in Maui, playing Arizona. I'll never forget that game. I think it was the worst game I played in my life. It's all a learning experience."
Chalmers' NBA experience has been storybook thus far. He already has won two rings in five seasons after winning a ring his junior year at KU and one at Anchorage (Alaska) Bartlett High.
"Championship point guard, trying to get another one, a three-peat. (He's) living a dream," said former Kansas State standout Michael Beasley, who is trying to make Miami's roster this season.
More than anything else, Chalmers likes the tag of "winner."
"That's pretty much what I go for. I've won on every level so far," Chalmers said. "I hope people remember me for hard work and winning."
And a certain shot to force overtime against Memphis in 2008.
"I could watch that all day," Chalmers said with a smile.
Twenty for Bron: LeBron James had 20 points and Beasley 13 for the Heat. "It was a great crowd. Obviously they love us. We're very thankful they welcome us with open arms every time we come here (in preseason)," James said of the KC fans.
Usher James: James had the night's most humorous moment. He stood motionless on the court with an usher (who was protecting the south goal) during an entire timeout in the fourth quarter. At the conclusion of the timeout, he sprinted off the court, to the delight of the fans.
More like this story on KUsports.com