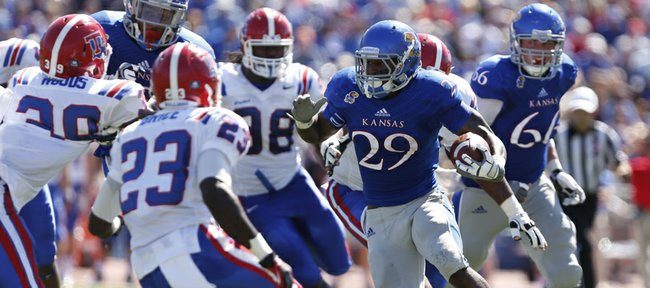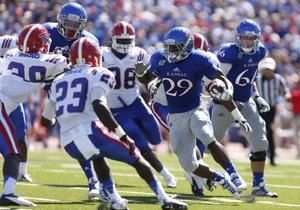 When running back James Sims signed to play football at Kansas University out of high school, one of the biggest draws for the Irving, Texas, native was the chance to play in front of family and friends multiple times during his college career.
It has hardly been the dream Sims imagined.
KU is 0-for-Texas during the six games played in his home state since the 6-foot, 200-pound tailback joined the Jayhawks in 2010. With just two chances remaining to snap that skid before his career is over, Sims said he viewed the showdown at TCU as more than just an opportunity to get the Jayhawks (2-2 overall, 0-1 Big 12) back on track.
"It means a lot to me, and I'm pretty sure to half the players on the team, just being back home in the state of Texas," Sims said of playing just 35 minutes from his childhood home. "Even if you're not (from the Dallas/Fort Worth area), you're in the state of Texas, and it's just a great feeling being back, and I'm pretty sure everyone would love to get this win."
That includes the non-Texas natives on KU's roster, many of whom would like to win as much for Sims as they would themselves.
"Being from the state of Kansas, I've never really thought of it like that," junior linebacker and fellow co-captain Ben Heeney said. "But that definitely brings a sense of wanting to win that much more for those guys like that. James has been here, been the starter since he's been on campus, and he's put all the hard work in just like everybody else. To get a win for a guy like that in his hometown would be great."
Although the outcome of each game in the Lone Star State has been one he would just as soon forget, Sims, who said he was not recruited by TCU (2-3, 0-2) and does not have any friends on the Horned Frogs' roster, does have a few fond memories of playing the Big 12's Texas-based teams on their home turf.
"I would have to say that Texas Tech game last year," said Sims, asked for his favorite memory thus far. "It went into double-overtime. It was a wild game. It could've gone either way, and all my family was there, too. It was a tough loss. You hate to lose that way, but that was probably my most memorable game in Texas."
With good reason.
Sims was a beast that day, as he combined with then-sophomore speed back Tony Pierson to torch the Red Raiders for 390 rushing yards, the most ever by a KU team in the Big 12 era.
Sims himself rumbled for 127 yards and scored three touchdowns in the 41-34, double-overtime loss, marking his best effort on his native soil. In the five other games combined, Sims averaged 73 yards on 15 carries. KU's fourth all-time leading rusher did go over the 100-yard mark two other times — 126 yards at Baylor in 2012 and 109 yards at Rice earlier this season — but the results remained the same.
That's been the story for Sims throughout his Kansas career. Despite leading the team in rushing for three straight seasons — and being well on his way to a fourth — Sims' individual performances always were overshadowed, in his mind, by the team's struggles.
"It has been hard, just trying to keep positive around your family knowing you lost the game," he said. "Knowing that you were right there and you lost the game, like when we were in Houston (vs. Rice). We just want to go down there and get this win, and then everyone will be happy."
Wins and losses have never mattered much to Sims' mother, Mary, who has been her son's biggest and loudest supporter since the beginning.
During KU's fourth game of the 2010 season — Sims' first college game in Texas — his mother went wild in Baylor's west stands with cheers, signs and a whole pack of Sims supporters, despite watching the Jayhawks get drubbed, 39-14.
The mere mention of that Baylor game brought a smile to Sims' face earlier this week, and he said he'd love nothing more than to really give his mom something to celebrate today in Fort Worth.
"My mom likes surprises," said Sims, admitting that his mom never tells him what mountains she'll move to cheer on her son from the stands. "She surprises me all the time. So I'm looking forward to another surprise this Saturday."
Asked if he would prefer to be the one doing the surprising this week, Sims sat up in his chair and flipped to a more serious tone.
"Most definitely," he said. "We're not looking to go down there to lose."