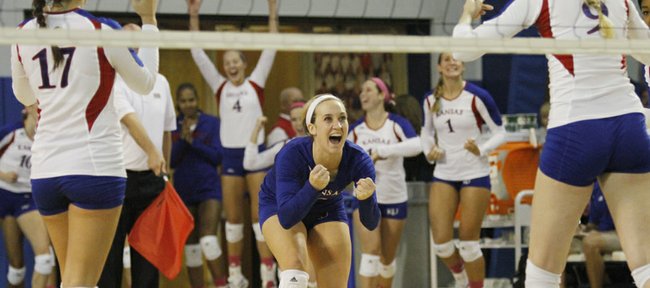 Photo Gallery
KU volleyball vs Oklahoma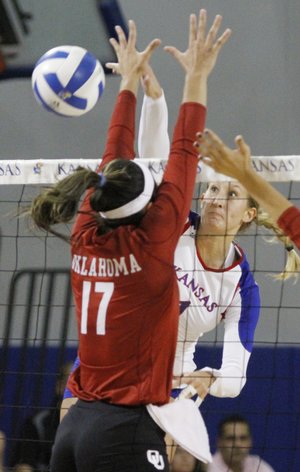 The Kansas Jayhawks volleyball team took on the Oklahoma Sooners Wednesday night at the Horejsi Center.
With one of the biggest home matches in Kansas University volleyball history looming on Saturday, the Jayhawks might have been tempted to overlook Oklahoma on Wednesday night in Horejsi Center.
"Human nature tells you maybe that happens once in a while. Once the match got going, we knew we better play well if we're going to have success tonight," coach Ray Bechard said after KU rolled to a 25-23, 25-15, 25-23 victory.
Down in Austin, Texas, the defending national champion Texas Longhorns swept Texas Tech, meaning both teams will take 4-0 league records into Saturday's 6:30 p.m. contest in Horejsi, which already is sold out.
"We didn't talk about Texas, but obviously the team knows, 'Hey, you've got the defending national champs coming in here,'" Bechard said after his Jayhawks (14-3, 4-0) overcame a 17-11 first-set deficit versus OU (14-4, 2-2).
"I told 'em we couldn't have a great week until we beat a good Oklahoma team. Now we have a chance to have a great week, but we'll get busy on that tomorrow."
Texas will take a No. 3 national ranking into Saturday's match, while the Jayhawks have been unranked since opening the year 4-3.
KU has won 10 in a row since that slow start for the school's third longest winning streak in history — and longest streak since 2001. The school record is 15 straight in 1991.
"Eleven would be cool," Bechard said. "We are 4-0 in the league, which is good. Obviously we'll see what we've got going on Saturday."
On Wednesday, junior Sara McClinton had 16 kills. Her first of the night gave her 800 for her career. She is the second-fastest Jayhawk to achieve the feat, behind KU all-time kills leader Josi Lima (2002-05).
"We did not (overlook OU) because we knew Oklahoma was one of the most competitive teams in the conference," McClinton said. "They've pulled off some great wins so far. Our first objective was to come out and beat Oklahoma."
Senior Caroline Jarmoc and junior Chelsea Albers had 11 kills each. Senior setter Erin McNorton had 48 assists as the Jayhawks hit a robust .347. Senior libero Brianne Riley had 17 digs. Jarmoc and freshman Tayler Soucie had four blocks apiece before a loud, sellout crowd of 1,353.
"It's really hard to defend when we are coming at them from the right side, middle and outside," McClinton said. "They have to guess and choose who to defend because we're coming at them from everywhere."
She hopes unranked KU can keep it going on Saturday.
"It's going to take us to be in system," McClinton said. "We need to get our passes to Erin McNorton all the time. We can't let them clamp down on one or two of our best players. We have to have everyone performing so we can spread out our offense."