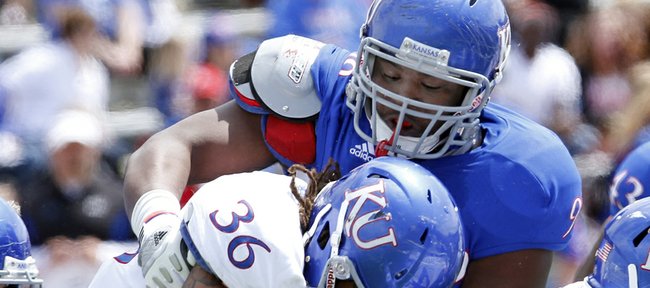 Kansas University junior Keon Stowers has experienced a lot of losses during his first 16 games in a KU uniform. And that makes him somewhat of an expert on critiquing the way a team bounces back from a loss.
Although the Jayhawks (2-2 overall, 0-1 Big 12) had moments last season when they showed they could compete with other Big 12 teams, they also had plenty of times when they suffered beatings like the one Texas Tech delivered a week ago at Memorial Stadium.
With that 54-16 loss being the first heavy blow dealt to the Jayhawks this season, Stowers talked Wednesday about how he saw his team move forward from the embarrassment.
"The biggest difference from last year (is our) mentality," Stowers said. "How we gonna respond after getting beat by that many points? At home, homecoming, reading the Tweets, reading the comments, how are we gonna respond? Last year we responded by losing another 10 games in a row."
This year, Stowers does not believe KU will roll over. The biggest reason for his optimism? Leadership.
Bouncing back often is viewed as something that happens during the 2-3 hours a day on the practice field, where the players show they've moved on by working hard and getting ready for the next game on the schedule. Stowers said it's more than that. And he's willing to put the burden of emphasizing that on the shoulders of KU's four captains — Stowers, Ben Heeney, James Sims and Jake Heaps.
"Guys were in the tank, and we showed flashes of that Saturday," Stowers said. "It's up to (us) to stop that right now. The coaches can only do so much. The coach is not at the dorms, at the lunch room, walking around campus. They're only here in the (football) building."
Asked to divulge the best way to go about recovering from a tough day at the office, Stowers pointed to hard work.
"The biggest thing is getting in guys' heads and seeing where they're at," he said. "You've basically got two ways you can go: You can point fingers or strap your britches up and keep going."
TCU's Fields done
TCU defensive end Devonte Fields, who was named the Big 12's preseason defensive player of the year, will not play Saturday against Kansas and will miss the rest of the season to have surgery on his injured foot, the Fort Worth Star-Telegram reported.
Fields, who missed the first two games of 2013 due to a suspension, has played in just two games this season and has been hampered by the foot injury throughout. Last year, Fields recorded 53 tackles, 10 sacks and an interception.
The Star-Telegram reports Fields will seek a medical red shirt.
Offense emulates D
For years, TCU and head coach Gary Patterson have been known for their defense. These days, the Horned Frogs are playing offense with an edge, too.
"The two things I like is that they play physical, and they play hard,"KU coach Charlie Weis said of TCU's offense. "They're trying to be balanced, play physical and play hard. Who does that sound like? Who do you know that kind of believes in that? I kind of think along with them."
Fortunately for the Jayhawks, Weis believes one of his team's strengths so far this year has been the physical play of its defense. Despite the defense's strong showing early in the season, Weis said his team needed to bring it this week to have a chance.
"In this game right here, if you're not physical on both sides of the ball, you're going to have a tough time," he said.
Added KU linebacker Ben Heeney: "TCU is more of a line-up-and-play (team). They're not trying to go hurry-up. They're trying to line up and see who the more physical, better team is. We match up with these guys better than we did last week against (Texas) Tech."