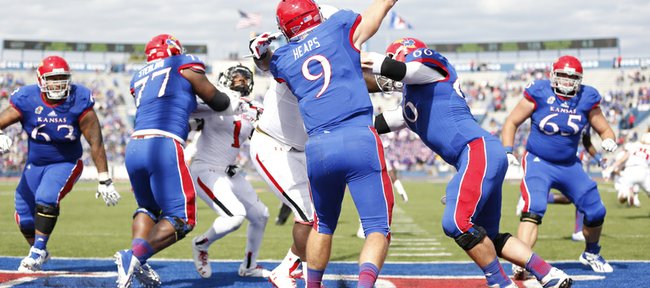 It's starting to look like a painful game of musical chairs for the Kansas University football program, as head coach Charlie Weis continues to search for ways to shuffle the deck in hopes of getting the Jayhawks' offense going.
Heading into Saturday's 11 a.m. Big 12 battle at TCU, the Jayhawks are averaging 18.5 points and 332 yards per outing, numbers that rank at or near the bottom of the Big 12.
Weis said Tuesday he was not worried about how his guys have handled the constant change and added that he would not stop until he got it right.
"The concern is if you're not willing to do that," the second-year KU coach said of regular tweaking of the depth chart. "It's a bigger concern if you're not willing to do things to try to fix 'em. We have an obligation as coaches to explore every alternative we can to try to make things better."
Most of the changes have come on offense, where the Jayhawks have struggled to both score points and sustain drives. Those issues not only have hurt the point-producing side of the ball but also have made life tough on KU's rapidly improving defense.
This week alone, 13 of the 24 spots on KU's two-deep, offensive depth chart featured names in new places from a week ago, with the biggest changes taking place along the offensive line and at wide receiver.
Asked if he's ever had to make such drastic moves week after week, Weis made it clear that he was operating in new territory.
"No, not to this extent," he said. "This is a large volume of changes, but, really, we only have so many alternatives. We're kind of running out. We're not gonna just start throwing names in a hat, pick out five and that's where we go. We have to start settling down into what we're gonna be. This week we'll get (another) opportunity to see where we are."
While the offense has rolled in a couple of dozen different players, the defensive side of the depth chart has remained largely unchanged. The only tweak this week came at Will linebacker, where sophomore Jake Love was promoted to the first team and senior Prinz Kande slid in behind him because of an injury to the former starter, junior Samson Faifili.
Junior quarterback Jake Heaps, one of the four team captains made available to the media on Wednesday, said the fluid nature of the depth chart has forced the captains to work overtime to make sure the team's confidence remained high, but both he and junior linebacker Ben Heeney said confidence was not an issue.
"You try and make sure that everyone is staying focused and staying positive," Heaps said. "Whether it's guys that are getting moved up and you're making sure they're on the same page with you, or guys that are dropping down and making sure they continue to stay positive, that they're not in the tank.
"As you can see, anybody can play at any given time, and they gotta prepare and work hard just like they were the starter. This is a perfect example of that. (Guys are) gonna get an opportunity. It's all about putting the best guys out there on the field and trying to give us the best chance to win."