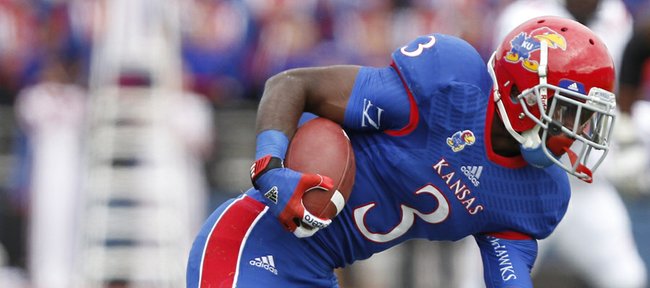 Kansas University running back/wide receiver Tony Pierson, who was injured during last week's loss to Texas Tech after being slammed to the ground following a long catch and run, is listed as day-to-day, according to KU coach Charlie Weis.
Weis, who said Monday morning that the good news was that all Pierson is dealing with is a headache, said KU's leading receiver could miss a week, a month or no time at all and that the Jayhawks were going to let the week play out before making any final decisions about Saturday's game at TCU.
"When I got (to where Pierson was injured last Saturday) he was out," Weis said. "You know how it is in today's game with heads and concussions. The last thing you're gonna do is rush a player in. So we'll just see how it goes."
Weis said Pierson would be held out of practice on Tuesday and added that he would not do anything to put the 5-foot-10, 175-pound junior from East St. Louis, Ill., in any kind of jeopardy.
"When I put out a depth chart tomorrow, I'm not putting him down there," Weis said. "When the doctors and trainers tell me that it's safe for him to go, that's when he'll go. And he will not go one second before that. I don't try to be the doctor here, I just heed their advice."
Pierson leads the Jayhawks (2-2 overall, 0-1 Big 12) in both receptions (21) and receiving yards (327) so far this season. He led the way, once again, with 118 yards on six receptions in the loss to Texas Tech, including the highlight-reel-worthy 39-yard gain that ended with him laying sprawled out on the KU sideline with coaches, teammates and trainers huddled around him.
Given that Pierson's injury initially looked so serious and came less than 24 hours after the tragic passing of KU recruit and Shawnee Mission West senior Andre Maloney, Weis said his heart sunk and mind raced when he first went over to check on Pierson.
"When I first got there, that was definitely flashing through my mind," Weis said. "But very quickly after I got there, his eyes opened and he started moving his extremities."
Although the result of Saturday's game definitely left a bad taste in his mouth, Weis said the heart-breaking situation with Maloney followed by the scary injury to Pierson made for a tough weekend all the way around.
"That was a bad one," he said. "It was really, really bad. When you recruit somebody, especially somebody who says yes, you're emotionally invested with these kids. To go through the loss of one of your future players so unexpectedly, and then to be sitting there with one of your favorite guys (out cold) — one of your best players is one thing but one of your favorite young men — you're saying, 'Let's not have a repeat here.'"
Late Saturday night, Pierson jumped on Twitter to let fans, friends and family members know that he was doing all right. His Tweet was simple and came in all capital letters: "I'M GOOD!!!," he wrote, adding an emoticon of two hands held in the air.
With the scary part behind them, the hope now is that Pierson can get back on the field sooner than later so KU's already struggling offense won't have to go too long without his dynamic play-making ability. But it seems very possible that he may miss some time.
"I know one thing," Weis said. "With Tony or anyone else, at least at Kansas, we're gonna err on the side of caution."