Document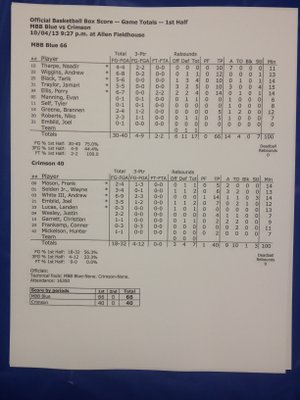 Seen It?
Podcast episode
Andrew White III, Naadir (not Nuh-Deer) Tharpe and Bill Self give their reaction to the skits and scrimmage from this year's Late Night at Allen Fieldhouse.
It's human nature. You watch a Kansas University basketball team compete for the first time, you walk away with an impression of how far it will advance in March.
You know that's ridiculous because all you saw was a pick-up game rife with uncontested dunks at the rim courtesy of olé defense, but you can't help yourself.
At first glance, this collection of super athletes that doesn't feature either a returning starter or a scorer who has averaged more than 5.8 points per game in a KU jersey, struck me as a Sweet 16* squad. An earlier exit means it underachieves. An advancement beyond that equates to over-achieving.
So why the asterisk?
Again, this is all based on a wild guess after watching a wild pick-up game, but when that's all you have to base it on, might as well let the imagination run free to pass the time today before KU's 11 a.m. Memorial Stadium kickoff against Texas Tech in the Big 12 opener.
The asterisk is there because if two developments occur throughout the course of the season, preferably by mid-season at the latest, KU could blossom into the school to beat heading into March Madness.
If Wayne Selden blossoms so quickly as a hard-charging driver and assist man that he ends up running the team from point guard, suddenly the potential for the Jayhawks explodes up the charts.
Watching Selden take the ball on the left wing, drop his shoulder, burn past Andrew Wiggins and drop in a layup from the right side of the lane made the mind dance as to Selden's chances of breaking down a defense. So did his on-the-money bounce pass that set up Embiid for a dunk. Ditto for a no-look pass to the post.
Selden's build calls to mind that of Oklahoma State's relentless sophomore point guard Marcus Smart and so did some of the passes that flew off his fingers. Obviously, he wasn't facing the sort of ball pressure and defensive intensity he will once KU's tough-as-it-gets schedule arrives, but that doesn't necessarily mean it would be too much for him to handle as a freshman. It's the position he one day will play in the NBA.
The second half of the equation that could give a national-title projection a more realistic feel than a Sweet 16 exit involves the graceful center who started playing basketball at the age of 16 in Cameroon, coming to the hardwood from soccer fields and volleyball courts. If Joel Embiid, a 7-footer who looked scary good at times and a little lost at others, can improve enough to play starter's minutes this year, look out.
As long as we're in "Dream On" mode, minus the smoke from the Phog machine, picture Selden, Andrew Wiggins, Perry Ellis, Tarik Black and Embiid flying down the court, a blend of size and speed only seen in NBA games. In all likelihood, too much of a turnover machine to work, but an intriguing concept.