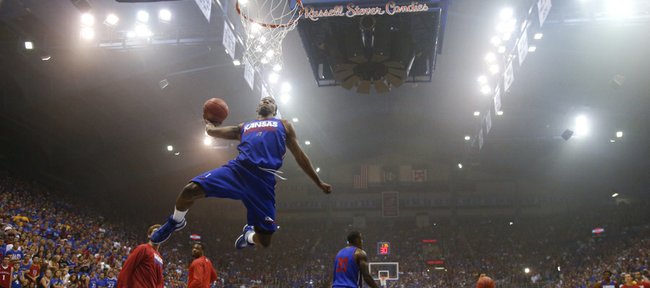 Document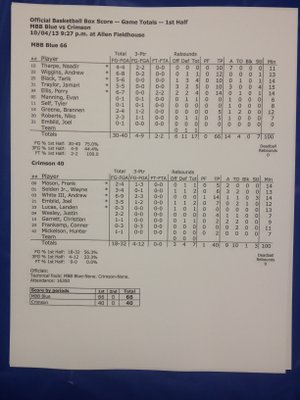 Seen It?
Podcast episode
Andrew White III, Naadir (not Nuh-Deer) Tharpe and Bill Self give their reaction to the skits and scrimmage from this year's Late Night at Allen Fieldhouse.
More than 16,300 fans who were shoehorned into Allen Fieldhouse shared an unexpected group sauna Friday night in KU's tradition-rich building.
"It's hot in here. Oh, it's hot in here," 11th-year KU coach Bill Self exclaimed to the spectators after grabbing an usually hot microphone at the 29th-annual Late Night in the Phog, held two weeks earlier than usual this year in accordance with NCAA rules.
"I didn't switch clothes because I spilled anything on my shirt. It was that I soaked it.
"Obviously, you are excited," he added to a throng that didn't seem at all inconvenienced by an 80-degree day and evening that had the non-airconditioned fieldhouse as steamy as it has ever been.
"How many places in America are over 25,000 people waiting to get in a 16,000-seat building ... other than Lawrence, Kansas?" Self asked, to roaring applause.
KU officials estimated that between 3,000 and 5,000 fans were turned away once the building quickly filled to capacity.
"It was ridiculous out there," Self exclaimed of long, winding lines around the fieldhouse, lines that were already long when he arrived at work at 9:30 a.m. Friday. "I feel terrible for those people who couldn't get in. I know we have the fire marshal and codes. It looked to me there were still some places guys could have gotten in. It shows the interest level, though."
Those nestled snugly in the building were treated to some comedy, courtesy of host Rob Riggle as well as Jayhawk players and coaches who enacted scenes from movies "Old School," "The Hangover" and "Anchorman."
Self stole the show as egotistical anchor Ron Burgundy in "Anchorman: The Legend of Bill Self."
"I'm kind of a big deal around here. People know me," Self said, mimicking Burgundy to perfection.
He also played a drill sergeant character screaming at his pledges/players — one being KU broadcasting legend Max Falkenstien — in a parody of "Old School."
"I got into character, without question, at least I thought I did. I thought I was a better actor than it looked on the big screen," Self cracked, indicating the only negatives of the evening were his acting and KU's play in a 20-minute intrasquad scrimmage in which the Blue team drilled the Crimson, 66-40, behind 14 points from Perry Ellis and 12 from Andrew Wiggins.
"I was really disappointed in our play ... awful. That was brother-in-law ball. I don't know who told them to do that. Obviously, the veterans said, 'This is how we do it.' We'll get that corrected in the next few days," Self added, noting senior forward Tarik Black (10 points, 5-of-6 shooting, four rebounds for winners) played "harder than anybody else."
Freshman sensation Wiggins, who hit six of eight shots and had various dunks, ran the court fluidly despite being quite nervous.
"I was standing in the corner waiting (before Late Night) with Andrew Wiggins. He was sweating bullets, telling me he wasn't ready and all that," said sophomore Andrew White III, who had 14 points off 6-of-9 shooting with three steals for the Crimson.
"I was trying to relax him. I know the new guys were real nervous out there. He personally told me. You can't really simulate that many people looking at you at one time," White added.
The Jayhawk players each took part in a group dance number, Self proclaiming Naadir Tharpe best dancer on the team.
"The dancing is the best part," said Tharpe, who scored 10 points off 4-of-4 shooting with seven assists and no turnovers. He was shaken up early after running into big man Joel Embiid (seven points, one block) but returned to the scrimmage and played 11 of 20 minutes.
"It's funny to see dudes on the team dance. They don't dance at all around us. I could tell they (freshmen) were nervous dancing in front of all those fans."
Self had the fans all fired up during a short speech.
"I know expectations are high. As a fan, you'll drive yourself nuts if you are not somewhat patient this year," Self told the crowd. "By the end, we'll be something special 'cause it's time to hang one more banner right there," he added, pointing to the north rafters.
Dunk drill: Freshman guard Wayne Selden (six points, three assists in scrimmage) was the unofficial star of the layup drill with several power jams with both one and two hands. ... Wiggins downed a dunk off a pass off the floor from Black. ... Black had a vicious dunk after throwing the ball off the backboard.
Banners: The KU women's track NCAA national championship banner was unfurled in the south fieldhouse rafters prior to members of the 2013 Outdoor championship team receiving their title rings. The banner will permanently hang in Anschutz Pavilion. ... The retired jerseys of KU's women's players now hang in their own row above the men's players' retired jerseys in the south rafters.
Football today: KU football coach Charlie Weis spoke to the crowd on the night before today's 11 a.m. battle against Texas Tech.
"One thing we are missing here is winning against the teams in our league," he said. "So tomorrow that's got to end. It's got to end. It's got to end.
"1,063 days from tomorrow will be the last time we won in the Big 12, and that's where it ends. It ends tomorrow."
He asked for the students' support.
"Here's the deal. Stay up all night, roll over to Memorial Stadium about 10 o'clock tomorrow, get there early, and by 2:30 in the afternoon we can all be partying together," Weis said.
Recruiting: Three top senior prospects attended Friday's Late Night in the Phog as part of their official recruiting visits.
They are: No. 4-ranked (by Rivals.com) Cliff Alexander, 6-8 power forward from Chicago Curie High; No. 12 Kelly Oubre, 6-7 shooting guard from Findlay Prep in Henderson, Nev.; and No. 17 Malik Pope, 6-8 small forward from Laguna Creek High in Elk Grove, Calif.
Alexander, who is slated to visit Illinois on Oct. 25-26, has a list of KU, Illinois, Memphis, Michigan State, DePaul and Arizona.
Oubre, who will visit Kentucky for its Big Blue Madness on Oct. 18, is also considering Florida, Georgetown, Louisville, Oregon, UConn and UNLV.
Pope, who is currently out of action following surgery on his leg, also is considering Gonzaga, San Diego State, Arizona, Washington, USC, Oregon, UCLA and California.
Juniors in the house at Late Night included No. 14 King McClure, 6-3 combo guard, Dallas Triple A Academy; No. 39 William Jackson, 6-4 point guard, Athens (Ga) Christian School; No. 68 Jarvis Johnson, 6-1 point guard, Minneapolis (Minn.) De La Salle. No. 11-rated (in Class of 2015) Charles Matthews, 6-4, combo guard, Chicago St. Rita, had a conflict and did not attend.