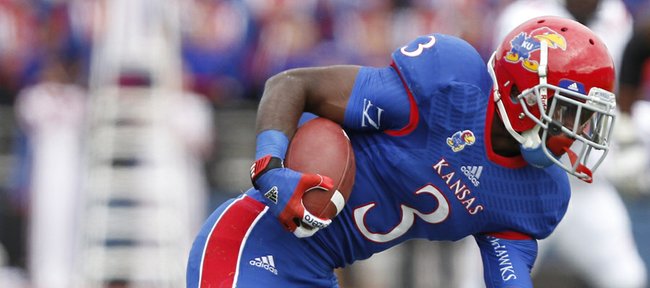 Photo Gallery
KU football v. Texas Tech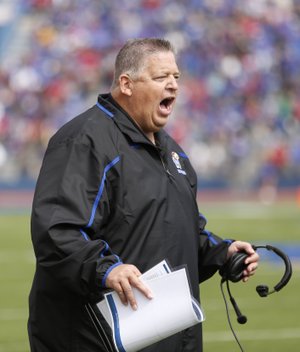 Images from Saturday's football game against Texas Tech at Memorial Stadium
Podcast episode
Kansas football coach Charlie Weis talks after his team's 54-16 loss to Texas Tech on Oct. 5, 2013.
Kansas receiver Tony Pierson could miss extended time after suffering a head injury in the third quarter, KU coach Charlie Weis said in his press conference following the Jayhawks' 54-16 loss to Texas Tech on Saturday.
After a 39-yard reception down the sideline midway through the third quarter, Pierson was knocked out of bounds and remained sprawled out on his back before trainers rushed to his side.
"His head hurt, so I'm sure that he took good knock on the head and has a concussion," Weis said. "He'll probably miss some substantial time would be my guess."
After a few minutes on the turf, Pierson was helped to his feet and walked — with the help of trainers — over to the sideline.
"I think he landed on the track. I don't know that. That's what my kids said to me when I went over there," Weis said. "His eyes weren't really open yet. He was breathing and moving a little bit, but his eyes weren't open yet. The trainers and doctors were all over it. He started talking, then he started moving. He actually was moving around OK in the locker room."
Pierson finished with six catches for 118 yards against Tech.
More like this story on KUsports.com