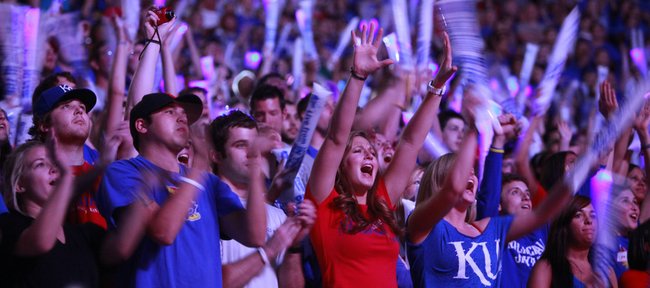 Bill Self stood outside the northwest tunnel of Allen Fieldhouse at 3:45 p.m., Thursday, checking his phone for the forecast on weather.com.
"It's going to be hot in here tomorrow night," Self, Kansas University's 11th-year basketball coach, exclaimed.
He, of course, was referring to KU's tradition-rich building, which, following an upper 80-degree day, figures to be filled to 16,300 capacity — and sizzling for the 29th-annual Late Night in the Phog.
Doors open at 5:30 p.m. today, for a show set to run from 6:30 to about 9:30. Admission is free. Any overflow fans can watch on the videoboard at KU's Hoglund Ballpark.
"My first year was unbelievable. We brought back the '88 team. I think they turned a lot of people away at the door," Self said. "Every year it's full. I do anticipate this being one of the most anticipated Late Nights we've had."
KU fans are itching to get an up-close look at eight newcomers, including freshman sensation Andrew Wiggins, who is expected to be the No. 1 pick in the 2014 NBA Draft. The 6-foot-8 Thornhill, Ontario, native, who is known for his athleticism, hasn't disappointed during the first handful of practices of the 2013-14 preseason.
"The last practice we had, he actually had this dunk on the baseline. Me and coach looked at each other. I said, 'That's not normal,'" junior point guard Naadir Tharpe said with a smile.
"When you play with someone that good, you kind of get stuck in passing. You want to watch and see what he's going to do. You can't be like that. I have to make sure the ball is moving and nothing sticks," Tharpe added.
Wiggins — he has impressed teammates by showing no signs of ego — figures to become a fan favorite sooner rather than later.
"Yes, Drew can live up to ... it depends on what expectations we're talking about," said senior power forward Tarik Black. "Some expectations are just inhumane, like c'mon now, he's a human being. He's not going to be perfection. But at the same time if you are just holding him to a higher standard that he's going to be a great player, yes, Andrew can achieve that, no problem. He has potential that is through the roof," Black added.
Wiggins awed 800 youths, plus a couple hundred adult fans when he raced in and dunked to open a Bill Self campers game in June in Horejsi Center.
"He blew me away from the first time he stepped on the court," Black said of Wiggins, whose parents will be here tonight, visiting from Canada.
"The video is on YouTube. It was the first play of the camp game. He took off on Cole Aldrich and Cole looked up like, 'No, I'm not jumping.' You are talking about an NBA guy in Cole Aldrich and a good shot blocker. From day one it's been like, 'Wow we got him.' It's a matter of him making up his mind, 'I can never plateau. I can never be as good as what people are saying. I have to continue to get better,'" Black added.
Wiggins acknowledged he might be a tad bit nervous tonight.
"A good nervous, not bad," he said.
"I'm pretty sure everybody will be nervous, even me a little bit," said sophomore Perry Ellis. "It shows you care."
The players will perform a skit or two — word is broadcasting legend Max Falkenstien is in one of them — scrimmage for 20 minutes and of course, do some dancing.
"When we got introduced and came out (during Midnight Madness his three seasons at University of Memphis) we had the opportunity to do our own dance, came out to our own little song. It wasn't choreographed like it is this year. Man ... our choreographers think we're Chris Brown backup dancers," Black said, smiling. "They think we're professionals but we're going to get it down. We're going to have fun and make it an eventful evening."
As far as Black's own dancing ability ...
"I have a move or two. I'm not too bad contrary to what it may look like," the 260-pounder said.
And as far as his teammates ... "We've got some guys you wouldn't expect to be able to dance that actually can dance," he said. "A guy like Perry. I didn't think Perry had it in him but Perry has moves. I can't wait to see him tomorrow night," Black said.
The KU women, who will scrimmage, dance and act, also have five freshmen newcomers raring to go.
"We came here last year on our visit," said freshman Dylan Gonzalez, who joins Bonnie Henrickson's squad with twin Dakota. "We were like, 'We can not wait to be part of this.' The dancing, the traditions, the people.
"We like to think we have better dance moves than the men, but I think they think they have the upper hand on us," she added.
The three-hour show figures to be ... "craziness," Black said. "I've heard so much about it. I've been through some (Midnight) Madnesses. I'm expecting this to be another level because of how highly-touted it is."
By the way, the first four fans started lining up outside the fieldhouse doors at 6 p.m., Thursday.
Self on KU's early-season practices: "OK. It hasn't been great. I don't think anybody (in coaching) is too excited right now about their team. Obviously we've got some good players, some good athletes, but the pieces don't quite fit yet. We've got another five or six weeks to figure it out."
He said KU's youngsters are thinking too much. " I think we're going through a phase right now; we're throwing a lot at them and we're kind of paralyzed right now," Self said.
On the point guard battle: "It's not Naadir versus Frank (Mason) ... it's whoever makes our team better," Self said. "Naadir is ahead if it was a contest, in large part because he knows what he's doing and he's been around. Frank is one of those kids who tries real hard. When he gets it, he'll get it. It's a situation where he's thinking a lot."
Interviews: Self is planning on reducing the interview load on Wiggins, who has met with several national outlets and done two group sessions with local reporters this summer and fall.
"I don't know if it's a set-in-stone plan, but we're cutting it off. He's not going to do basically anything until ... right before the Champions Classic (Nov. 12). He's done too much already. The thing about it is, we've got some other good players, too, and everybody just wants to talk to Andrew. That's not right. That's not representative of who we are," Self said.
"He's handled it pretty well. He doesn't enjoy it like you would think a normal 18-year-old kid would. He's tired. He's come to us and asked, 'Do I have to do GQ (Magazine)? Do I have to do Sports Illustrated? Why do I have to do these?' Well there's some you do have to do. Those are two of them. As far as local stuff, no disrespect to anybody, but he's not going to be available every day for interviews.
"We're not protecting him; there's a lot of coaches out there who don't let your kids talk 'til Christmas. It's a long season. There's no reason for a kid who's never gone through anything before with extended practices to get worn out before you really ever get started."
Recruiting: KU will have three senior recruits on campus today — No. 4 Cliff Alexander, 6-8 power forward from Chicago Curie High; No. 12 Kelly Oubre, 6-7 shooting guard from Findlay Prep in Henderson, Nev.; and No. 17 Malik Pope, 6-8 small forward from Laguna Creek High in Elk Grove, Calif. Juniors likely to attend Late Night as identified by Rivals.com: No. 11-rated (in Class of 2015) Charles Matthews, 6-4, combo guard, Chicago St. Rita; No. 14 King McClure, 6-3 combo guard, Dallas Triple A Academy; No. 39 William Jackson, 6-4 point guard, Athens (Ga) Christian School and No. 68 Jarvis Johnson, 6-1 point guard, Minneapolis (Minn.) De La Salle. No. 9 Elijah Thomas, 6-9 forward, Lancaster (Texas) High, hopes he'll be able to attend.
"It would have been perfect (recruiting weekend) but USA Basketball scheduled their young future star weekend to work out this weekend. Of course I have a good relationship with those guys," Self said of USA hoops officials. "That was disappointing. We probably would have had four or five more guys here. We're obviously using it as a recruiting weekend. I can't talk about it (specific recruits). I hope everybody leaves impressed."