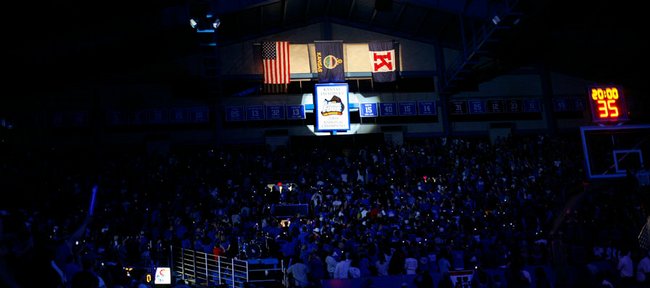 Everybody loves lists, so without further ado, here are the top five moments in Late Night history as compiled by Gary Bedore, who has been in Allen Fieldhouse for all 28 season-opening extravaganzas.
1a) 2008 national title banner unfurled
KU didn't recognize the Jayhawks' 1988 national title during Roy Williams' first Late Night in October of '88. Remember, Larry Brown — the coach of that '87-88 team — had moved on to take a job with the NBA's San Antonio Spurs, leaving NCAA sanctions in his wake.
The joy of winning the NCAA crown was overshadowed a bit by all the change in the program.
In stark contrast, the 2008 title dominated Late Night '08.
The crowd, in fact, unleashed the loudest ovation in Late Night history when the NCAA title banner dropped in the south rafters at 8:57 p.m., Oct. 17.
"I almost started crying. I don't think I was the only one," KU coach Bill Self said of the moment a temporary '08 title banner was unwrapped under the Kansas state flag, smack in the center of the rafters.
It fell at the conclusion of a 2008 NCAA Tournament highlight video.
"It all came back," guard Sherron Collins said of KU's overtime victory over Memphis that gave the Jayhawks the '08 crown. "It was a great year."
1b) Self receives long, loud ovation during 2003 Late Night
The former University of Illinois coach who acknowledged being a bit "nervous" prior to his first Late Night, was astounded by the fans' reaction to the first-year Jayhawk coach.
"I have been in a lot of loud places, but that was a little bit overwhelming," Self said.
By the way, Roy Williams' first Late Night also resulted in the fans giving him an ear-splitting standing ovation while chanting, "Roy, Roy."
"I wasn't skeptical that I would be accepted, still you don't know what's going to happen," Williams said. "Then when I was introduced, the people there, the reception they gave me is still something as emotional as anything that's ever happened to me."
2) Roy Williams dance parties
Williams' dancing dominated coverage of "Late Night With Roy Williams" from 1990 to 2002, Williams' final Late Night prior to his heading to North Carolina.
Yearly, Roy would join his players at center court and gyrate to show how enthused he was for the start of hoops season.
"I guess I kind of started the deal of getting coach Williams to dance," former KU forward Mike Maddox said of the 1990 Late Night. "Coach criticized Mark Randall and my dancing the year before and was always laughing at us, so we thought it'd be fun to get him out there."
Maddox escorted Williams on the floor to dance with the Crimson Girls.
"I criticized Maddox so much he got a couple of the Crimson Girls to drag me out there," Williams said. "Needless to say I didn't want to do that, to get out there. But there's 16,000 people. You either have to fake it or get booed. I faked it and sneaked out in 30 seconds."
He's danced at his first 10 Late Nights at North Carolina as well.
3) KU charged admission in 1989 to offset the cost of bands "Shooting Star" and "Nace Brothers."
Nobody was happy about the $5 price of admission, especially when it turned out as many music lovers as basketball fans filled the fieldhouse.
The music lovers, as at many concerts, lit up marijuana joints, a distinct smell in the upper deck.
"There certainly was an unusual aroma permeating the fieldhouse that night," former KU associate athletic director Doug Vance said. "It left our security people busy. A few people got tossed out.
"Having the music was a logistical nightmare. Setting up the staging, bringing in lights and getting them out of there quickly for what people wanted to see ... basketball. I think we learned a lesson that night ... that Late Night was a basketball event that should be free of charge," Vance added.
Having a huge stage in the North endzone made for a memorable Late Night moment. KU players Maddox, Jeff Gueldner, Freeman West and Rick Calloway climbed the soundstage and lip-synced the Robert Palmer song, "Simply Irresistible."
In a crazy twist, Maddox's 1988 NCAA title ring slipped off his finger and flew into the crowd, a cheerleader retrieving it for him.
4) KU senior power forward Scot Pollard proposed marriage to girlfriend Mindy Camp in 1996. She accepted.
"Egotistically speaking, I don't think that can be topped. Not many things that go on at Late Night are life-altering events," Pollard said. "As far as important, that's as big as it gets."
Pollard, who wore nailpolish and a dress in a skit that night, was not dressed in drag when he proposed.
"Not true. I was changed and in normal clothes. It was 45 minutes after I was in drag," Pollard said.
5) Alonzo Jamison shattered the backboard during pre-scrimmage warmups in 1988.
The dunk-gone-awry pushed back Williams' first Late Night scrimmage to about 12:40 a.m. Back then, teams could not use a basketball at Late Night until the clock struck midnight in accordance with NCAA rules.
"Alonzo dunked it and the goal standard came crashing down. The crowd went crazy. Glass was everywhere," Vance recalled. "Looking on the floor, you had to worry about Alonzo's health. There was the potential for serious injury, but he was able to maneuver away from all the debris," Vance added.
More like this story on KUsports.com