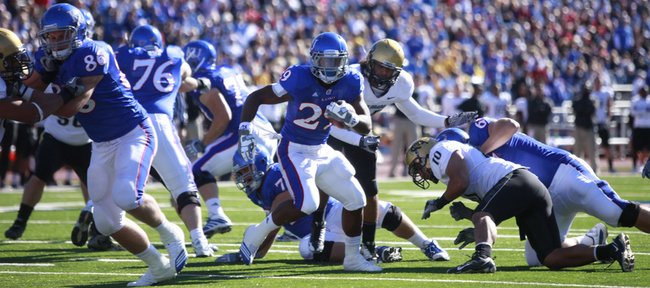 The numbers are staggering and Kansas University coach Charlie Weis is not hiding from them.
By the time Saturday's 11 a.m. kickoff against No. 20 Texas Tech rolls around, 1,063 days will have passed since the KU football team last defeated a Big 12 Conference opponent. Weis opened Tuesday's meeting with the media with a roll call of the numbers associated with a dreadful drought that has spanned 21 games and four seasons. Going one step further, Weis revealed that the number balloons to 1,455 days if you only count current members of the Big 12. KU topped Iowa State, 41-36, on Oct. 10, 2009, and did not win a conference game again until Nov. 6, 2010, against Colorado.
"Yes, I have those numbers down," Weis said. "And, at (Tuesday's practice) that will be one of our main conversation pieces."
Finding extra motivational tactics is nothing new for Weis and his program, and KU's second-year coach stressed that confronting the dubious streak was not some sort of punishment for his players.
"You don't do it as a negative," Weis said. "You just say, 'This is where we are. We're gonna beat somebody. You want to get this out of the way?' You don't look at it like, 'You have to win this week to get this over with.' But you make them aware of what the issues are. As the program is building, you have these hurdles you have to get over and this would be a good time to get over that hurdle. It's Homecoming. 11 o'clock. Everybody's gonna be fired up."
That includes the Jayhawks themselves, who picked up some momentum from a 13-10 victory against Louisiana Tech two weeks ago and took that into last week's bye and preparations for unbeaten Texas Tech. Momentum, motivational tactics and wanting to snap a nasty streak count for much without making it happen on the field. But Weis said he was more pleased with his team's mindset heading into Big 12 play this year as opposed to last year.
"I think our players are expecting to win this week; they're not hoping to win," he said. "Now, they might be an eight-touchdown underdog, I couldn't tell ya. I don't follow that stuff (Texas Tech is favored by 14 points). But we haven't played a game this year where our team expected to lose or hoped to win. And that's part of the psychology involved with starting to win. You have to expect to win, not hope to win. They're two totally different mentalities."
Defense ready?
So much of KU's offseason was spent preparing the defense to be able to handle the faster tempo for which Big 12 offenses are known. And even though the Jayhawks only saw glimpses of the fast-paced style during their three non-conference games, Weis believes his defense is ready for a Texas Tech offense that is averaging 85 snaps (compared with 70 for KU's offense), 39 points and 520 yards of total offense.
"We've practiced a lot, for the defense, snapping it really quick," Weis said. "We'll snap it as quick as you can snap it and, if nothing else, I think our own offense is giving our defense an opportunity to have to play on the fly and play at a very fast pace."
Admire at center
There were a couple of tweaks to KU's depth chart this week, with the offensive line seeing the biggest change.
After starting at center for the first time in his career, sophomore Dylan Admire has replaced Pat Lewandowski as KU's first-string center. Lewandowski remains second at the position, but Weis said Admire, though smaller (6-foot-3, 280 pounds vs. 6-5, 295), brings more athleticism.
"That's an ongoing competition," Weis said. "That's not a closed deal. It's just that, right now, there's a couple things we're trying to do and Dylan's gonna get the first go at it. I could list it as 'or,' but Dylan's gonna start the game."
The other notable change on the offensive line comes at right tackle, where junior Zach Fondal is back with the first team and Riley Spencer has moved into a backup role at left tackle behind senior Aslam Sterling. Red-shirt freshman Brian Beckmann is pencilled in as Fondal's back-up.
Other changes
Outside of the offensive line, there were no major changes to this week's depth chart, but there are a few worth noting: Trent Smiley and Jimmay Mundine remain 1-2 at tight end; senior wide receiver Christian Matthews is back on the list as the second option behind starting Z receiver Tre' Parmalee; the only change to the defensive depth chart is at Will linebacker, where Samson Faifili and Jake Love now are listed side by side, with only the "or" separating them.
Popular punter
During KU's bye week, former Kansas City offensive coordinator Weis made a quick trip to Arrowhead Stadium in Kansas City, Mo. One of the first people to find him was Chiefs' all-pro punter Dustin Colquitt.
"The first question Colquitt asked me was, 'Tell me about your punter,' because he was worried about losing his job two years from now to this kid," Weis said of KU junior Trevor Pardula. "He said, 'Did he really kick a 78 yarder?' I said, 'Yeah, the next one was only 65.' It gets their attention."
More like this story on KUsports.com