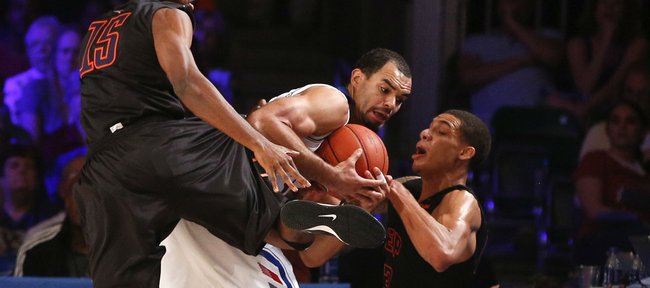 Photo Gallery
KU basketball v. UTEP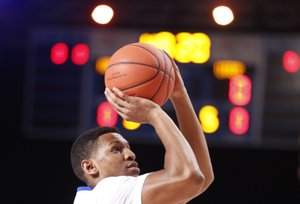 Images from Saturday's third-round game against UTEP in Paradise Island, Bahamas.
Podcast episode
Kansas basketball players Joel Embiid and Perry Ellis, and their coach Bill Self, talk about the hard lessons they learned after going 2-1 at the Battle 4 Atlantis.
KANSAS 67, UTEP 63
Paradise Island, Bahamas — A narrow victory over UTEP in the third-place game of the Battle 4 Atlantis Tournament was no cause for celebration for Kansas University's basketball players, coaches and fans on Saturday in Imperial Arena in the plush Atlantis resort.
The mood, in fact, was downright gloomy after the Jayhawks' 67-63 win — a game in which KU (6-1) nearly blew a 14-point lead against a 4-4 team in the final two minutes.
"I'm tired," coach Bill Self said with a frown after KU won for the first time in four all-time meetings versus UTEP, then added some levity to the situation by saying his fatigue was because of a long walk from the locker room to the interview room.
"I'm leaving here not discouraged, but with the understanding that we're not who I think we thought we were and certainly not who the I think the players thought we were when we headed over here. We were exposed pretty good over here."
He let loose with a stream of negatives after the Jayhawks appeared to suffer a hangover following Friday's semifinal loss to Villanova.
"I think we are taking away we have a long way to go to becoming good basketball team. That's not bad, either. We rarely have great teams in November," Self said. "We are not as good as we were 17, 18 days ago. That's a little frustrating we've gone backwards. We didn't play well at all over here. We played one decent half and five crappy ones, in large part because of opponents and how they played.
"We made some plays especially in late-game situations against Wake Forest (in first-round win). Against Wake (in first-round win), we had the game put away and let them back in. Today we had the game put away and let them back in. Villanova ... we had a one-point lead with 12 seconds left and didn't do what we should have done. There are great teaching moments that should help us moving forward."
There were some highlights Saturday.
Joel Embiid totaled a freshman record seven blocks, passing Nick Collison's six versus Nebraska in 2000. And Wayne Selden had 12 points the first half and finished with 14 off 6-of-9 shooting. Also Perry Ellis, who hit some clutch free throws late, netted 19 points with seven boards.
But the lowlights were aplenty as well.
"I think our energy level sucks," Self said. The Jayhawks, who were patient in attacking UTEP's gimmick defenses and four-corner offense, held a 15-2 lead nine minutes into the game. However, the lead dipped to 26-20 at 2:51 before being upped to 34-25 by intermission.
"It's hard to play the game if you don't have great energy," Self noted. "It's hard to play the third game of a three-game tournament with unbelievable energy, (but) there has to be more a sense of urgency. We play way, way, way too casual. That goes into how you screen, block out, go after loose balls, a lot of things we are not doing well now."
Self said he's not doing a good job of coaching the Jayhawks.
"I thought we'd have errors of trying too hard instead of casualness," he said. "That's what's really frustrating to me. To me, a coach should be judged on three things: Do they play together? Are they unselfish? Do they play extremely hard and are they tough? I'd say we went 0-for-3. That's frustrating to me when you go 0-for-3."
Freshman guard Selden, who was one point off a career high, missed a shot and had three turnovers before the first TV time out. But he also scored KU's first five points and dove into the stands for a loose ball during the contest.
"I would say Wayne played with as good as energy as anybody," Self said, also citing Embiid and Tarik Black. "It's good to see Wayne make a couple shots. That was good. He got off to a rough start. I'm glad I didn't sub him. He had three turnovers in three minutes, got a couple shots down and actually played well the first half."
Embiid had six points, six rebounds and seven blocks the final half while playing 16 minutes that half.
"I thought he was good. I'm speaking honestly (in his frank postgame session with media). That's one guy on a big uptick," Self said. "He has to play more minutes without fouling."
As far as re-living the near disastrous ending, KU led, 59-45, at 2:15. However, UTEP brought it all the way back to 66-63 at 6.8. Frosh guard Frank Mason fouled McKenzie Moore, who hit three free throws.
KU was able to inbound, and Ellis, who made five of six free throws the last 35 seconds, made one of two to complete the scoring.
"We have a lot to learn as a team, a lot of things we need to work on," Ellis said. "This has been a learning experience coming here. The main message (from Self) is we have a lot to learn still. We made mistakes which gave them (Miners) confidence."
Suffice it to say, Self will be doing a lot of coaching in upcoming practices. The Jayhawks next meet Colorado on 2:15 p.m., Central time, Saturday, Dec. 7, in Boulder.
"We've got to get where in practice we are making mistakes but with the same energy and effort you have to play with in the game. You play like you practice. We have not been a great practice team so far," Self lamented.
More like this story on KUsports.com