Photo Gallery
KU basketball v. Villanova (Battle 4 Atlantis)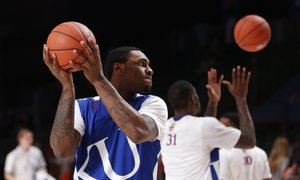 Images from the Jayhawks' second-round matchup against Villanova in the Battle 4 Atlantis tournament.
Podcast episode
Kansas coach Bill Self and Jayhawks Perry Ellis and Naadir Tharpe address the media following KU's 63-59 loss to Villanova at the Battle 4 Atlantis.
Villanova 63, Kansas 59
If you thought Bill Self and the No. 2-ranked Kansas Jayhawks had a bad Friday night, you didn't see Tim Floyd and UTEP, lose 89-53, to Iowa in the first Battle 4 Atlantis semifinal.
"Our inadequacies were obvious to even the casual basketball observer," the disgruntled UTEP coach said after the Hawkeyes dominated his team for 40 minutes.
Now UTEP must recover in time to face KU (5-1) tonight at 6.
Freshman swingman Jake Flaggert, like the rest of the Miners (4-3) would have dug a hole in the beach to hide in if he could have.
"This was an embarrassing loss, so it's going to motivate us for tomorrow," Flaggert said, not knowing at the time UTEP would get a shot at national power Kansas. "We're going to give it everything we've got, listen to coach, and get back, and give it our all."
UTEP's 18-for-52 shooting, and complete lack of production on the glass, where Iowa held a 46-24 advantage, made for the miserable night.
"We didn't play well," Flaggert reiterated. "Iowa was shooting the ball pretty well (31-for-59)."
Freshman center Matt Williams offered his opinion on the struggles.
"I think we were talking too much about what we wanted to do, and we didn't do it on the court," he said. "We didn't come out strong."
More like this story on KUsports.com