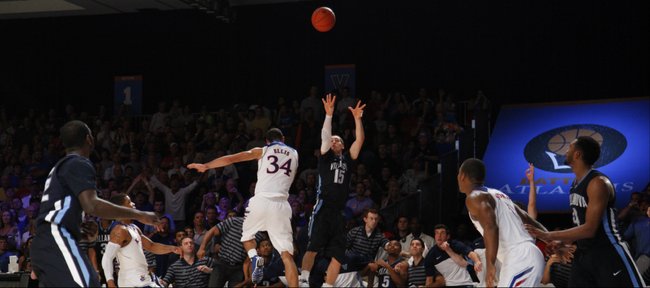 Photo Gallery
KU basketball v. Villanova (Battle 4 Atlantis)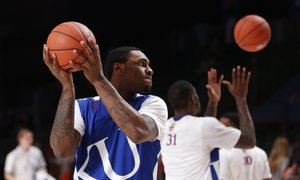 Images from the Jayhawks' second-round matchup against Villanova in the Battle 4 Atlantis tournament.
Podcast episode
Kansas coach Bill Self and Jayhawks Perry Ellis and Naadir Tharpe address the media following KU's 63-59 loss to Villanova at the Battle 4 Atlantis.
Villanova 63, Kansas 59
Paradise Island, Bahamas — When college basketball fans start chanting "Let's go Hawks" tonight during the Battle 4 Atlantis championship game, they won't be cheering for No. 2-ranked Kansas University, the presumed tournament favorite coming in.
Those calls will be for the No. 23 Iowa Hawkeyes, who spanked UTEP Saturday night to advance to the title game.
It would have been Jayhawks versus Hawkeyes in tonight's final, but Ryan Arcidiacono changed that with one three-point stroke with 11 seconds left against KU.
With sophomore Kansas forward Perry Ellis flying at him, the Wildcat sophomore point guard coach Jay Wright calls "Arch" drilled the hero shot that sent Kansas to the third-place game, 63-59.
Wright drew the play up for Arcidiacono, even though he hadn't hit a shot all night against Kansas (5-1). Villanova's coach had seen the 6-foot-3 guard from Langhorne, Pa., hit it too many times in practice.
What's more, "Arch" drilled practically the exact shot against Syracuse last season.
Wright had no reason to think anything different would happen when Arcidiacono released the three that erased a 59-58 Kansas advantage.
Frank Mason, whose and-one, spinning lay-in gave the Jayhawks their first lead of the second half, 59-58, with 29.2 seconds left, could have been the hero.
"Arch" had other intentions behind the arc.
"I put my eyes on the rim," said Arcidiacono, who shot 1-for-6 from the floor and only scored four points but happened to provide the most critical three of the game. "I really didn't see (Ellis flying at him). I thought I was wide-open. I just pulled the trigger."
Even though Wright hadn't drawn up any plays for Arcidiacono against Kansas, Jayhawks coach Bill Self wasn't taken aback to see Villanova's point guard make the play of the game, despite double-digit scoring nights from the Wildcats' JayVaughn Pinkston, James Bell, Darrun Hilliard and Dyllan Ennis.
"I don't know the personality of the guy (Arcidiacono)," Self said, "but he seemed like a tough guy to me. ... It didn't surprise me that he was the one who took the shot."
A point guard to the very core, of course Arcidiacono credited his teammates for getting him open and shrugged off the notion he deserved credit for his team's marquee victory or his clutch play. He said his Wildcats teammates set game-changing screens. Spoken like a guy a team can rally around.
"Honestly, I hadn't made a shot all night," the guard said with a smile.
The difference between Villanova, at least on this night in late November, months in advance of when the games mean the most, might have been the experience of 'Nova's lineup. Wright said as much, as the coach beamed about his guys.
"They've been around," Wright said. "If there's any difference right now, (the Jayhawks) have got a lot of freshmen. A lot."
And that might be the best news for Self and his Kansas team. Sure, people will remember the Arcidiacono shot, and it will be all over ESPN and every other outlet college basketball junkies go to for the next few days, weeks, maybe even all season.
But that Villanova highlight won't end KU's season. It won't matter at all in March.
Like most coaches who see Andrew Wiggins, Joel Embiid, Frank Mason and the rest of KU's loaded roster, Wright shuddered to think what the Jayhawks might look like come NCAA Tournament time.
The Villanova coach admitted he sure wouldn't want to see them in the same region as Villanova.
"That team was so young," he repeated. "I think that was a little difference there."
Well, maybe there was one other factor.
"Arch made a big-time shot," Wright said.
More like this story on KUsports.com