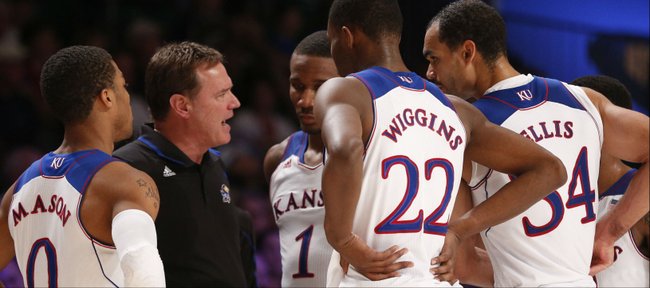 Photo Gallery
KU basketball v. UTEP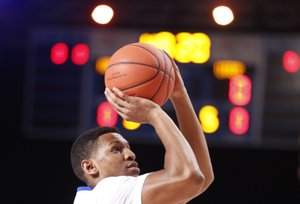 Images from Saturday's third-round game against UTEP in Paradise Island, Bahamas.
Podcast episode
Kansas basketball players Joel Embiid and Perry Ellis, and their coach Bill Self, talk about the hard lessons they learned after going 2-1 at the Battle 4 Atlantis.
KANSAS 67, UTEP 63
Paradise Island, Bahamas — Bill Self looked to the ballroom ceiling on more than one occasion Saturday night at Imperial Arena. And, despite the club music that pounded during timeouts at the Battle 4 Atlantis, it wasn't the side show distracting the Kansas University basketball coach.
The gazes, usually accompanied by an eye roll, were designed to avert his eyes from the things his Jayhawks were doing -- or, in some cases, not doing -- against UTEP, and the fire behind the stares could have burned a hole through the roof.
Self's No. 2-ranked Jayhawks ignited the ire, and that was before they let a 14-point lead with 2:22 left shrink down to three in the final 10 seconds.
By the time their coach cooled down and made it to the post-game press conference, he still groaned about the way KU played in a 67-63 victory over a four-loss team. The way his players screened, blocked out and went after loose balls (or, more accurately, how they didn't do those things) led him to describe their style as "way, way, way too casual."
UTEP (4-4), which got drubbed by Iowa a night earlier, nearly forced its way into an even bigger upset than Kansas suffered to Villanova on Friday. The Jayhawks (6-1) drove Self loco, because they nearly helped Tim Floyd's Miners do it.
Long before KU struggled to solve UTEP's full-court press in the final minutes, or sophomore point guard Frank Mason fouled Justin Crosgile with the Jayhawks up 63-57 with 23.8 seconds left on the clock, Self felt as if his team was going backward, and regressing from the level it reached less than three weeks ago, in beating Duke.
Even freshman guard Wayne Selden (14 points), who showed flashes of why NBA scouts would advise their front offices to draft him in the lottery, via his athletic drives, a follow jam and a pair of three-pointers, turned the ball over six times.
If Self felt good about anything after his team finished 2-1 at the tournament and took third place, it was that he didn't go Bobby Knight on someone.
"Compared to how I can usually be, I thought I was very mild-mannered tonight," Self joked.
When Self let his players have it during timeouts, it was because he looked back toward the floor, and away from the ceiling, and saw a team not living up to its potential.
Coaches, he shared, should be judged by three things, when it comes to their players: "Do they play together/are they unselfish? Do they play extremely hard? And are they tough?
"I'd say we went 0-for-3," Self added after beating UTEP. "So that's frustrating to me, when you go 0-for-3."
Self almost conceded that playing so many freshmen -- Andrew Wiggins, Selden, Frank Mason, Joel Embiid, Conner Frankamp and Landen Lucas -- lends itself to frustrating nights as a coach. But then he cut off that thought before it reached his lips.
"Even our veterans are young players as far as experience," Self said. "I do think that causes a lot of it, and it's contagious. Just like enthusiasm and energy is contagious, taking the air out of a room is also contagious, too. We've gotta improve on that."
Coaches can't even start to feel good about their execution when they're worried about energy and effort, and Self doesn't see his team playing a style that would put him at ease.
In fact, Wiggins, who shot 2-for-9 from the field, did the exact opposite less than two minutes into the second half, and Self immediately yanked him from the game.
Maybe Wiggins isn't feeling well, as Self noted after Kansas squeaked past Wake Forest Thursday, or maybe he's still finding a way to get comfortable. But Self has no issue with punishing the potential top-three NBA pick for his on-court mishaps.
The super-forward from Ontario had a chance to score in transition, but Julian Washburn swiped the ball clean, ending the fast break. Self turned to the bench and told Mason to go sub in for Wiggins.
"It was a pitch-ahead and he tried to catch it with one hand and bounce it instead of just being solid," Self said.
It was just one in a long line of examples that Self hopes he can turn into teaching moments, and the overall lesson will be that the Jayhawks aren't as good as they thought they were when they arrived at the Bahamas Tuesday night.
Said Self: "The tape don't lie."
More like this story on KUsports.com