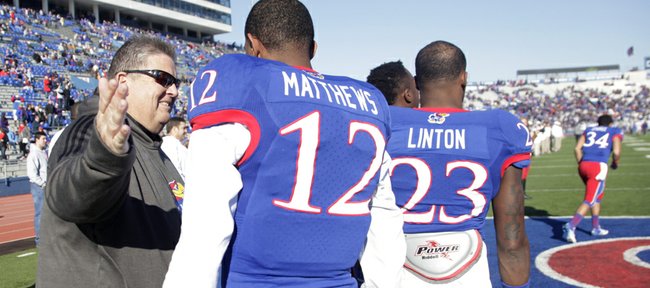 Photo Gallery
KU football vs. Kansas State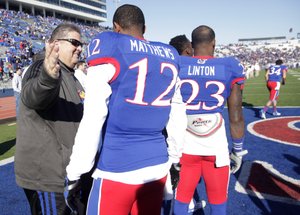 Kansas University lost to Kansas State 31-10 in the final game of the season, Saturday at Memorial Stadium.
Podcast episode
Charlie Weis talks after 31-10 loss to Kansas State
Kansas State 31, Kansas 10
With his head coach scheduled to hit the road for recruiting Sunday and his football team having just wrapped up another disappointing season, Kansas University athletic director Sheahon Zenger offered a vote of confidence for the current coaching staff and the direction it's taking Kansas football.
"I've been through many rebuilding projects," said Zenger following KU's 31-10 loss to rival Kansas State on Saturday at Memorial Stadium. "And this is when you stay the course. Whether it be today or the rest of the season, wins and losses aren't always indicative of the effort that is put in by this coaching staff and these players. I'm proud of their work ethic and we'll continue to chop away at this."
Weis, who is now 4-20 during his first two seasons at Kansas, seemed eager to hit the road to recruit help for the future. With offensive line coach Tim Grunhard stepping down Sunday, Weis indicated that one of his top priorities on the recruiting trail would be to visit the already-committed players with whom Grunhard created bonds.
"I'll be in all their homes this week," said Weis, speaking mostly of offensive linemen.
As for the rest of the whirlwind two weeks, Weis and his coaching staff will hit it hard until Dec. 13, when they'll come back to Lawrence for the team banquet and then head into their offseason conditioning program starting Dec. 15, when the NCAA puts a temporary stop to all recruiting activity.
Asked about his confidence level as he went out in search of reinforcements, Weis seemed ready.
"Pretty good," he said. "I usually feel pretty good about our plan in recruiting."
Changes coming?
When asked if he had plans to shake up his coaching staff any more than by replacing Grunhard, Weis turned the focus back to recruiting.
"Right now I'm not worrying about doing anything with our staff," he said. "I want to get through recruiting. If you're gonna do anything, that's the time when you do that. Right now, it's full speed ahead in recruiting."
KU has nine players committed in the current recruiting class and is expected to add more than a dozen more, mixing in high school and junior college talent at the team's weakest positions.
So long, seniors
Saturday's loss marked the final game in the careers of 23 players who either exhausted their eligibility or will graduate and not return to the program next season.
That made the postgame scene in the locker room emotional for everyone and Weis briefly shared what he said to the outgoing players following their final game.
"I had a long conversation with 'em in the locker room and I'd prefer to leave that private," he began. "I always talk about life. I'm a lot bigger than football. There's a lot of things you learn by being a part of a football team and football happens to be just one of 'em."
Asked how it felt to be finished, senior safety Dexter Linton summed it up best.
"Sad day in Lawrence, Kansas," he said. "We've been here for so long, me for five years, three coaches, I'm gonna miss it. We gave it our all, we worked hard and we gave everything we could to the program throughout all the losses. We never gave up."
Added senior center Gavin Howard of the scene in a quiet locker room following the loss: "It was real emotional, with all the underclassmen telling the seniors they're gonna miss 'em and talking to all of the coaches you've been with for so long."
This and that...
The Jayhawks lost Saturday's opening coin toss for the sixth time this season. K-State chose to defer its choice to the second half and KU elected to receive the first-half kickoff. ... KU set a season-high with 12 tackles for loss. ... Junior wide receiver Justin McCay set career-highs in both receptions (5) and receiving yards (45). ... Isaiah Johnson's third-quarter interception gave him five for the season, the most by a Jayhawk since Darrell Stuckey recorded five in 2008. ... Temperature at kickoff was 47 degrees, under sunny skies with winds of 10 mph out of the southwest.