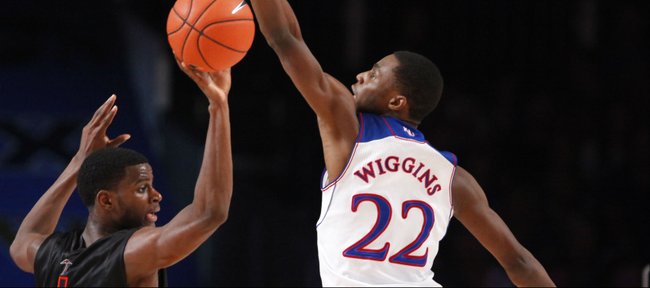 Photo Gallery
KU basketball v. UTEP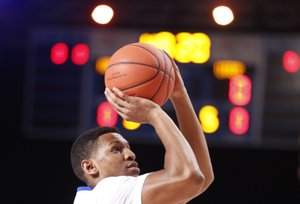 Images from Saturday's third-round game against UTEP in Paradise Island, Bahamas.
Podcast episode
Kansas basketball players Joel Embiid and Perry Ellis, and their coach Bill Self, talk about the hard lessons they learned after going 2-1 at the Battle 4 Atlantis.
KANSAS 67, UTEP 63
Paradise Island, Bahamas — Kansas University freshman Andrew Wiggins, who has been slowed by a bout of the flu, scored six points off 2-of-9 shooting with seven rebounds while playing 34 minutes in Saturday's 67-63 Battle 4 Atlantis victory over UTEP.
He missed four shots and did not score while playing 18 minutes the final half. Wiggins had 10 points off 3-of-8 shooting in Friday's 63-59 semifinal loss to Villanova.
"I didn't even ask him," Self said, asked if Wiggins still was slowed by the bug. "He was dragging. I don't know if it was fatigue from flu or whatever. I don't think he played with unbelievable energy. He did get his hands on a lot of balls the second half in going to the offensive glass."
Wiggins had six rebounds the final half — three offensive.
"I would say they are all trying to do that," Self said, asked if Wiggins was trying to find a comfort zone in the offense. "I would say they are all trying to do that. I would say that is a fair assessment."
Wiggins wasn't made available for comment at all during the tourney.
Embiid rejects seven: KU freshman center Joel Embiid blocked a Jayhawk freshman record seven shots, all in the second half.
"I always know to go straight up and try to block it and contest it," 7-foot Cameroon native Embiid said, simply.
He passed Nick Collison, who had six blocks versus Nebraska in February of 2000.
"Kansas' length got us," UTEP coach Tim Floyd said. "The big freshman had an impact on the game."
Ellis honored: KU sophomore forward Perry Ellis was named to the Battle 4 Atlantis all-tournament team, and was the only Jayhawk to receive the honor.
Black's OK: KU senior center Tarik Black banged his right knee and played just two minutes the second half. Coach Bill Self said he was OK and didn't suffer any structural damage.
Fake drill: For some reason, there was no ball available, so the Jayhawks did a fake layup and dunk drill before the start of the second half. They pretended they had a ball, passing it to each other in line and also faking shots. A ball was located before long and the Jayhawks continued to partake in the drill, this time with a ball.
No cheering in the sportsbook: About 20 KU fans watched the KU-Kansas State football game in the sportsbook of the Atlantis casino. The game was available for betting with KSU an 18-point favorite. It was a pretty silent group that watched the Wildcats prevail, 31-10. Fans, by the way, were unable to bet the basketball games contested at the Battle 4 Atlantis. The sportsbook did not take action on the games with gambling always a concern of the NCAA and its member institutions.
Mason tweets: Freshman guard Frank Mason, who was not one of the two players available to the media for comment after Friday's loss to Villanova, did speak via Twitter late Friday night/early Saturday.
"Couple bad decisions by me tonight, Feel like I let my team down, but those mistakes I made I definitely could learn from them."
He added ... 'Everybody who got some to say about me and my decisions it's just motivation I know I made bad decisions and I will improve from them."
When asked who was complaining, he wrote, "Some of KU fans; they love us when we win though."
He also added, "Moving on to the next game tomorrow .. that game tonight will definitely be a good teaching tape for the team."
And ... "I never lose faith."
Mason had the spinning layup and foul shot that gave KU a late one-point lead over Villanova. He also missed a three with five seconds left with KU down, two.
More like this story on KUsports.com