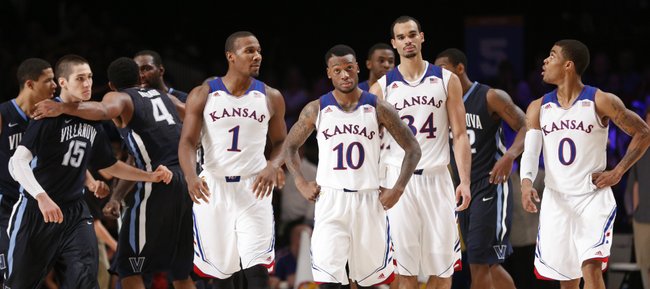 Photo Gallery
KU basketball v. Villanova (Battle 4 Atlantis)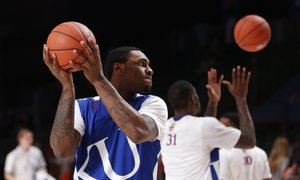 Images from the Jayhawks' second-round matchup against Villanova in the Battle 4 Atlantis tournament.
Podcast episode
Kansas coach Bill Self and Jayhawks Perry Ellis and Naadir Tharpe address the media following KU's 63-59 loss to Villanova at the Battle 4 Atlantis.
Villanova 63, Kansas 59
Paradise Island, Bahamas — Kansas University's basketball team will not face its third undefeated team in three days during today's third-place game at the Battle 4 Atlantis tournament.
A battle against Iowa (7-0), which everybody had hoped for, will not happen following KU's 63-59 semifinal loss to Villanova.
KU, and its legion of 3,500 (or more) fans, will square off against UTEP (4-3) in a 6 p.m., Central time, contest in Imperial Arena at the Atlantis resort.
"The first thing is, there's nothing we can do about that game now. It's over," KU sophomore Perry Ellis said. "We have to tell these younger guys we have to move onto the next game. We have to get better as a team, just go into the game tomorrow and play more competitive than we have been."
UTEP is led by former Iowa State and NBA coach Tim Floyd, who went 25-10, 15-17 and 18-14 in his first three years as Miners' coach. He has yet to lead UTEP to an NCAA berth.
UTEP's top players include 6-foot-6 junior guard McKenzie Moore (14.0 ppg entering tourney), 6-10 junior forward Cedrick Lane (11.0 ppg, 7.3 rpg), 6-8 junior forward Julian Washburn (10.4 ppg) and 6-8 freshman forward Vince Hunter (10.2 ppg). UTEP has beaten Loyola, West Alabama and Colorado State at home to go with a first-round Atlantis win over Tennessee. UTEP has already played New Mexico State twice, losing both at home and on the road.
KU coach Bill Self on Friday night's happenings: "To me this was a game a lot like the Kentucky game at the Garden," Self said of a Nov. 15, 2011, loss to UK in the Champions Classic. "No rhythm. You try but are not tough enough to have a chance to win. That team went on and did some decent things (32-7 record, Big 12 title, Final Four). We have a long ways to go. What we try to tell our guys there is a difference between trying hard and competing. We have to learn how to compete. It will not happen overnight. We'll have more ups than downs. When everything is fast forward and combine not shooting well at all (38.9 percent vs. Nova; 2-11 from three and 15-25 from line) it puts extra pressure (on team)."
Next year's tourney: The eight-team field for the 2014 Old Spice Classic was announced on Friday. KU will be joined by Michigan State, Georgia Tech, Marquette, Rider, Tennessee, Santa Clara and Xavier.
The ninth-annual event will be held Thanksgiving weekend, Thursday, Friday and Sunday, Nov. 27, 28 and 30, at the HP Field House at ESPN Wide World of Sports Complex in Orlando, Fla.
The bracket-format tournament will feature 12 games over the three days. Gonzaga won the 2012 Old Spice Classic title, its second tournament championship (also 2008). Previous winners were Dayton (2011), Notre Dame (2010), Florida State (2009), North Carolina State (2007) and Arkansas (2006).
For information visit the Old Spice Classic web site at www.oldspiceclassic.com.

Blast from past: Former KU assistant coach Mark Freidinger, a scout for the San Antonio Spurs, is working the tournament as color announcer on the Wake Forest radio network. It's a job he's held for many years.
Freidinger, who was a member of Larry Brown's KU staff, was instrumental in the start of KU's Late Night With Larry Brown, which morphed into Late Night With Roy William and now Late Night in the Phog.
Freidinger suggested to Brown the Jayhawks hold a season-opening hoop extravaganza in 1985. After a small crowd in '85, Freidinger was out to add some hoopla in '86.
"We called David Letterman trying to get him to come. They sent Larry Bud Melman (a regular on the show) and the students loved him," Freidinger said.
Freidinger took part in a skit in which he drank a wild concoction of chocolate milk, raw eggs and pepper, mixed in a blender by KU players.
"It was Coca-Cola, but nobody knew that," Freidinger said.
Freidinger said he still remained friends with KU assistant AD John Hadl, the only person he still knows in KU's athletic department.
"A friend of mine heard the grill at 'The Wheel' was closed. I said, 'Tell 'Knobby' (owner) to open that grill up again,''' Freidinger said. "One of our scouts was there a few weeks ago and said it was open," Freidinger added with a laugh, recalling all the times he ate lunch at 'The Wheel' with Brown.
He said he thought Wake Forest was making strides under fourth-year coach Jeff Bzdelik, who inherited a program down on its luck.
More like this story on KUsports.com