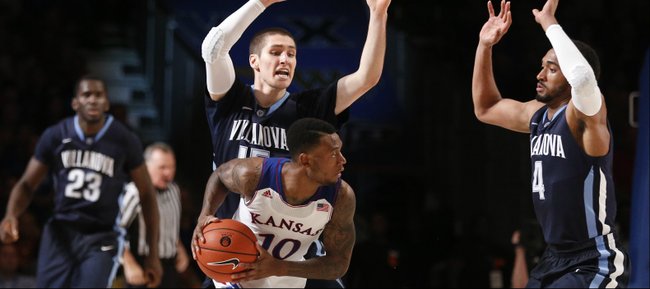 Photo Gallery
KU basketball v. Villanova (Battle 4 Atlantis)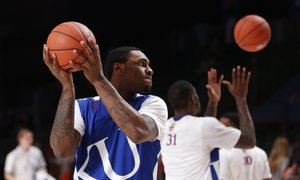 Images from the Jayhawks' second-round matchup against Villanova in the Battle 4 Atlantis tournament.
Podcast episode
Kansas coach Bill Self and Jayhawks Perry Ellis and Naadir Tharpe address the media following KU's 63-59 loss to Villanova at the Battle 4 Atlantis.
Villanova 63, Kansas 59
Paradise Island, Bahamas — A spot in the third-place game is not what Kansas University's basketball team and its loyal fanbase that occupied all but a handful of the seats in 3,900-seat Imperial Arena wanted at the Battle 4 Atlantis holiday tournament in paradise.
But it indeed is a 6 p.m., Central time, contest against UTEP that awaits KU today after the Jayhawks' 63-59 loss to Villanova in a wild semifinal on Friday night.
Ryan Arcidiacono's three over the outstretched arms of Perry Ellis with 11 seconds left gave the Wildcats (6-0) a 61-59 lead, answering a spinning layup and foul shot by KU's Frank Mason that had given KU (5-1) a 59-58 lead at :29.2.
"I think we didn't do a good job of guarding. It is the only shot he made for the game," KU coach Bill Self said of sophomore guard Arcidiacono's crucial trey, his only hoop in six tries, all from beyond the arc. "It was a big-time shot."
It was one that KU sophomore Ellis tried to get out and contest but was late.
"I almost was (able to get to the shooter)," said Ellis, who hit five of seven free throws and scored 11 points on a night KU missed 10 of 25 charities, making 15. "I didn't know if I could help too much. My man slipped. I did the best I could."
The late Villanova heroics erased a gallant effort by KU freshman guard Mason. His driving layup and swish from the line helped KU come all the way back from a 12-point deficit (48-36 at 12:41).
Also, he followed Arcidiacono's trey with a three -point try of his own that missed at :05. KU fouled following the rebound, and 'Nova hit two charities at 2.7 seconds to account for the final margin.
"I should have called a timeout (after the Villanova three)," Self said. "I had one left. My thinking is, the best thing is to get it in quick and go score. Still, when it got (to be) a makeshift deal there, there were four or five seconds left.
"Frank was open, though (it's) not what I want. I'd rather him drive. (But) he had to take the shot," Self added, not criticizing Mason's judgment in the heat of battle.
"My deal is, if it is above six (seconds to play), get it and go (and not call time). If it's under six, call time out. It was 9 when the ball went in the basket."
Self applauded Mason for the key layup that could have won the game.
"Frank will get in there. He's not intimidated by the situation at all," Self said of Mason, who scored 12 points off 5-of-11 shooting. "It was a nice play by him and nice to make the free throw. There were a lot of good things young kids did to put us in position to win. To me, a positive is we can say Villanova has a really good team. They definitely will be in the tournament and have a good seed. Jay (Wright, coach) does a terrific job. Look at us individually, the team didn't play great individually, but we were still there with a chance to win. We do have a lot of improvement to make."
Of course, this one classifies as a heartbreaker, even though KU entered as a strong favorite.
"I hate it came down to one possession like that. At least we fought and defended better than we have been the second half," Self said.
Mason actually led KU in scoring on a night KU hit 38.9 percent of its shots and two of 11 from three. Ellis had 11 points, while Joel Embiid and Andrew Wiggins had 10 apiece.
As far as the early story of the game, KU, which led 11-2 six minutes in, trailed 29-19 with 2:26 left in the half, courtesy of a 27-8 Villanova domination.
Included in the long stretch was a Self technical foul. KU's coach charged onto the court to complain after 'Nova appeared to hack Ellis on a steal that led to a three by Dylan Ennis, making it 29-19 after Arcidiacono hit one of two technical foul shots.
It was a dismal half for KU in which the Jayhawks, down 29-22, hit just six of 25 shots, including one of six from three. At one point, Self was heard yelling the word "soft" at Wiggins after a 'Nova player ripped the ball from Wiggins' grasp.
Darrun Hillard hit three threes and scored 12 the first half, while JayVaughn Pinkston had eight. KU's leading scorer was Wiggins with five.
A huge problem the first half was fouls. Tarik Black played just six minutes in picking up three fouls. Embiid, who had two fouls, played three minutes, and Jamari Traylor, who had two fouls, played the same three minutes.
Things were rosy very early as Villanova missed its first seven shots, KU opening 11-2. Black, who picked up his second foul at 16:20, of the first half, scored four, while Embiid had a basket and foul shot and Wayne Selden and Ellis buckets in the run.
Hillard hit a three at 13:14 for Nova's first bucket, and after a 6-0 run, the Wildcats trailed 11-8 at 12:27. 'Nova sliced the gap to 16-15 at 8:21.
UTEP enters today's game with a 4-3 record after getting annihilated by Iowa, 89-53.
More like this story on KUsports.com