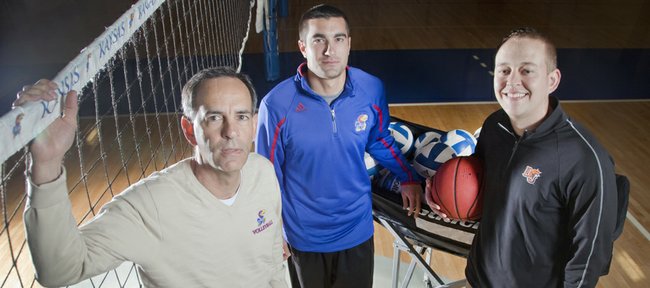 When Brennan Bechard, Kansas University director of men's basketball operations, joined the Jayhawks' staff in 2009 as a graduate assistant, he became another candidate to join Bill Self's coaching tree.
While several of Self's assistants have taken the next step in their respective careers to lead other programs, Bechard is already a part of another coaching tree that is deeply rooted in tradition.
Brennan is the son of KU volleyball coach Ray Bechard, who has led the Jayhawks to a 23-6 record heading into Saturday's regular-season finale against Oklahoma. Ray has racked up 271 victories in his 16 seasons with the Jayhawks, but in his career he has 987, most of which came at Barton County Community College.
Ray's career goal after he had started his coaching career at Lewis High School was to be the head man at Barton, but not for the volleyball team.
"I wanted to be the basketball coach at Barton County Community College. That was my goal," Ray said of the school in Great Bend. "Then I got hired there as an assistant women's basketball coach and then two years later the volleyball thing develops. When things started going well there year after year, I set my sights on the University of Kansas."
To say things were going well for Ray at Barton is an understatement. Although he regrets not being able to lead Barton to a national title, the Cougars went to 10 NJCAA Final Fours and didn't lose a home match in 13 years under Bechard.
Ray also played basketball at Barton for two years before completing his undergrad at Fort Hays State. Brennan followed in his dad's footsteps by starting his collegiate basketball career at Barton before he joined Self and the Jayhawks as a walk-on from 2007-2009.
"I had been a KU fan my whole life, even when we lived in Great Bend," Brennan said. "Just knowing Coach Self and the success he has had. I've basically been a life-long fan. I never really knew whether it would work out or not, but when the opportunity presented itself, it was obviously kind of a dream come true and turned out to be a great experience."
When Brennan joined the KU coaching staff, current Tulsa assistant men's basketball coach Brett Ballard was the director of basketball operations for the Jayhawks. Brennan credited Ballard for helping him along in his first years as a coach.
"Brett Ballard when he was here showed me a lot of things because he did all of the video stuff and whatnot before I got here," Brennan said.
Before Ballard joined former Jayhawk assistant coach and player Danny Manning at Tulsa in 2012, he mentored another member of the Bechard family coaching tree at Baker University.
Connor Bechard, who is Brennan's cousin, played for Ballard during his junior and senior seasons and helped the Wildcats reach the NAIA Tournament in 2012. While Ballard departed to Tulsa shortly after the 2011-2012 season ended, Bechard remained at Baker as an assistant coach under Sean Dooley.
Connor acknowledged that there are a lot of things that he is still learning as a coach, but he has enjoyed it thus far.
"I'm kind of young and dumb, so I kind of enjoy sitting in the film room and just kind of breaking down tendencies of players and tendencies of teams," Connor said. "That's kind of what I'm really into right now is the nitty, gritty stuff."
Connor knew early on in his playing career at Baker that he wanted to join the coaching ranks after graduating, and a large part of that was because of his father and his high school coach, Don Bechard.
"He was my coach for little league teams growing up and stuff," Connor said. "He was my coach pretty much my whole life until I got to college."
Began with brothers
Don Bechard coached boys basketball and volleyball at Gardner-Edgerton High School for 16 years before he died at age 52 in 2008 after a two-year battle with cancer.
"Unfortunately, he passed away before I was in the coaching profession, so I really didn't take enough time and to sit down and ask him and pick his brain like Ray did with volleyball," Connor said. "I didn't get a chance to do that a whole lot. But what I've kind of noticed through looking at old documents and stuff of his was how organized he was and how every little thing mattered to him. He had so many rules that everybody would follow, but if you were just a good person and did things the right way, you followed all of those rules."
Don led the GEHS boys basketball team to a Class 4A state championship in 1996, and also won a 6A title at Manhattan in 1987 as the volleyball coach.
"I think he's the only coach in the history of Kansas high school athletics that has won a state championship in boys basketball and state championship in girls volleyball," Ray said. "When there was a scrape in the household, usually Don was involved because he was pretty competitive, but that served him well as a coach and as a mentor for me."
Ray and Don were two of seven siblings parented by Adeline and Armond Bechard Sr. Their brother Rich also went on to be a volleyball coach, but has moved on to be the district athletic director for Blue Valley schools.
Don recorded more than 900 combined wins between volleyball and boys basketball in his coaching career, and Ray knows that he would not be closing in on his 1,000 career victory if it weren't for a lot of advice along the way from his brother.
"(Don and I) bounced ideas off each other all of the time. I think he grew to love (volleyball)," Ray said. "He was a basketball coach at heart, but he was just a competitor at heart. Whatever it was, whether it was a fight to see who could get the newspaper in the morning first or figuring out a way to win a volleyball match."
Along with sharing volleyball coaching tips with each other, Ray and Don both got the opportunity to coach their daughters as well.
Ashley (Bechard) Henkelman played for Ray at KU from 2001-2004, and helped the Jayhawks to NCAA Tournament berths in 2001, 2002 and 2003.
"That was the best of times for me, but harder for her with probably a little bit more of a critical eye on her than anybody else," Ray said. "She went through some really unique circumstances here, especially in 2003 when she held us afloat as the starting setter for the first month or month-and-a-half of the season and then her role changed a bit. I know that was extremely difficult on her, but I can't tell you how proud I was of her with how she handled that and the career that she had here."
Don's oldest daughter, Lauren, began her high school volleyball career playing for her father in her freshman and sophomore seasons at Gardner-Edgerton. Lauren's sister Addison also went on to play volleyball for the Trailblazers from (2010-2011).
Going forward
The impact that Ray and Don Bechard have had on their children and many other athletes is the primary reason why Brennan and Connor want to continue the family tradition.
"Obviously my dad would be a huge part of (why I wanted to be a coach) in just seeing that my whole life growing up," Brennan said. "All of his brothers and family ... I've just been around it my whole life, so that is the path I wanted to go down."
When Brennan was asked what his dream coaching job would be, he didn't get a chance to answer before Ray interjected by saying, "move over, Bill (Self)."
Brennan enjoyed playing for Self, and one of his favorite parts about coaching has been continuing to learn from him. Brennan said he likes his current role with the Jayhawks and is excited to see how his coaching career transpires.
"My dream is just to stay in the profession and just take baby steps and work my way up," Brennan said. "I'm going to have to work up the ladder a little ways, but if I could continue to do that and get to a big school, that would be the ultimate dream."
Connor echoed Brennan's answer when asked about what his career coaching aspirations are.
"I'd like to be a head coach some day," Connor said. "I wouldn't say at the (NCAA) Division I level necessarily, but I think my goal is just to get better as a coach and take steps as a coach to learn as much as I can so that some day I might have the opportunity to be a head coach at the NAIA level or the NCAA level. Regardless, just to be involved with the sport and to be a leader of a group, that is just the ultimate goal."
But just like Brennan hesitated in answering what his dream job was, Connor looked around as he was sitting in Ray's office with his uncle and cousin, and he came up with his ideal coaching scenario.
"I'm thankful to be where I'm at right now and hopefully one day, Brennan Bechard is the head basketball coach at Kansas University and I can jump on board as an assistant," Connor said.
More like this story on KUsports.com