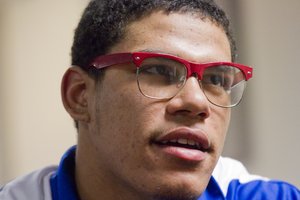 A jury trial for former Kansas University football player Chris Martin's robbery case stemming from a May home invasion has been continued to March.
Martin, of Oakland, Calif., was scheduled to appear in Douglas County District Court for trial on Monday, but his case has been moved to March 3.
Martin faces one count of aggravated robbery in connection with a May 13 armed robbery of cash and drugs from a man at a home in the 1900 block of Camelback Drive.
Martin will next appear in court for a pre-trial hearing on Feb. 21.
Martin, who is free on a $35,000 bond, was dismissed from the KU football program in June. The program recruited Martin, a junior college transfer, as a four-star defensive end — but Martin never played a game for the Jayhawks.