Photo Gallery
KU basketball v. Towson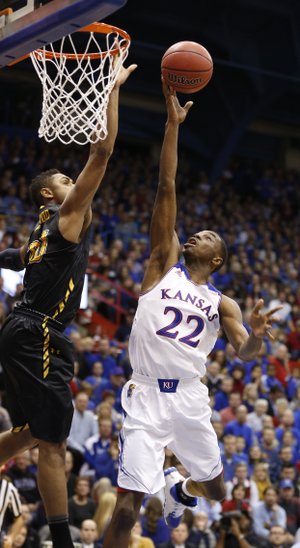 Images from Friday night's game between the Jayhawks and Tigers at Allen Fieldhouse
Podcast episode
KU men's basketball coach Bill Self talks about his team's offensive onslaught after 88-58 win over Towson.
Podcast episode
Tarik Black, Andrew Wiggins & Joel Embiid discuss playing fast and having fun after 30-point win.
Kansas 88, Towson 58
Subtle isn't a word that comes to the minds of tongues-hanging spectators when an Andrew Wiggins highlight video plays on the big board. Amazing, freakish, did I really just see that? Did he really get that high above the rim? Nothing quiet about the gifts he flashes on those plays.
The great ones produce more than highlights. They produce, period. And they do it efficiently, in transition in both directions, in the half-court on both ends. They do it within the framework of teamwork. They make smart decisions. Wiggins is on the road to greatness, and he's the first one to say he's not there yet.
"I need to run the floor hard every time I'm out there, from baseline to baseline," Wiggins said after he helped Kansas University run Towson out of town, 88-58, Friday night in front of the customary sellout crowd that was treated to an amazing first half of basketball. "I know I need to push the ball and be even more assertive than I already am. I think today was better than my other games, but I can still be better."
You can't fix something unless you acknowledge it needs fixing. He's halfway there.
Wiggins was assertive enough to lead the team with 16 points to go with seven rebounds. I had an inkling his favorite stat on his efficient line in the box score would be the number "4" under the offensive-rebound column, and asked him.
He answered with a big smile and a small word: "Yes."
He's so quick and alert, he is able to reach over and snatch rebounds right from hands in which the ball is about to land.
Wiggins routinely holds his man to single-figure, season-low scoring outputs. In this case, that single figure was the same one relentless point guard Frank Mason wears on his jersey: zero.
"I think my defense is underrated," Wiggins said.
It might have been before he asked to guard en fuego Jabari Parker in the Duke game and cooled him off, but it won't be much longer.
"I think he can guard," KU coach Bill Self said. "His man, I don't think he scored tonight."
Jerome Hairston attempted just two shots, didn't get a rebound or an assist and turned it over once in 13 minutes.
Jerrelle Benimon, a 6-foot-8, 245-pound senior who played his first two seasons for Georgetown, was the man Kansas needed to slow down Friday. He produced game highs in points (21) and rebounds (10), but the only stat he produced when guarded for three possessions by the 6-8, 200-pound Wiggins was one turnover.
Wiggins asked his coach if he could guard him because, "He was scoring, and I just wanted to see how I'd do on him."
Self let him, he cracked, "just to show our big guys he is guardable. He's a good player."
Not many athletes as long as Wiggins are as quick afoot.
"He's quick enough to pressure the ball, but he's long enough he doesn't have to pressure it," Self said. "He's hard to get around. He can be a lockdown defender in time. Hopefully, it's not that far away."
Wiggins was just as efficient at the other end, making six of eight field goals, his only three-pointer and three of four free throws. He didn't turn it over and had an assist and a blocked shot.
Wiggins scored 14 points in a first half played at a pace that would have impressed Stanley Redwine, coach of KU's national-champion women's track and field program. He took just one shot in the second half.
"It came in the flow of the game," Wiggins said of his offense. "I didn't rush anything. We all play with great chemistry."
His eight field-goal attempts were the most on a team that scored 88 points. How's that for sharing the ball?
"It's just our nature," Wiggins said. "It shows how our team is playing for each other. Nobody plays selfish. We all play unselfishly."
Sometimes unselfish means taking control of a game that needs to be grabbed by the throat. When Perry Ellis needed help, Wiggins stepped to center stage and scored six points and snared a rebound at each end during KU's game-ending 15-4 run against Duke. He clearly liked the big stage that night in United Center.
"I do," Wiggins said. "I do. I do. I love moments like that. Big crowds. Big-name people in the gym."
Informed that Wiggins said he liked that nobody on the team attempted more than eight field goals, Self said: "That's who he is. He's the type of kid that I really believe in a game like this tonight, that's the way he should be. But in games we're struggling to get baskets, he needs to take 15 or 20 shots."
It doesn't look as if there will be many of those nights, but when there are, Wiggins will be willing, and with a variety of tools in his bag, he'll be able to put that many shots up. Joel Embiid is the most obvious, but not the only unfinished basketball player improving at a rapid rate for Kansas.