Friday, November 22, 2013
Photo Gallery
KU basketball v. Towson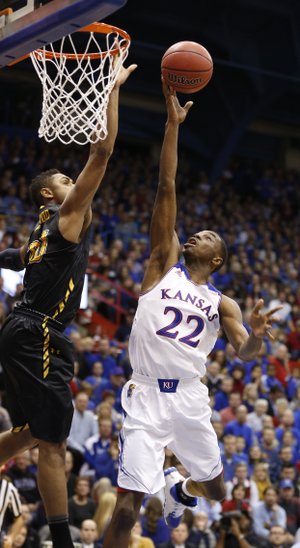 Images from Friday night's game between the Jayhawks and Tigers at Allen Fieldhouse
Podcast episode
KU men's basketball coach Bill Self talks about his team's offensive onslaught after 88-58 win over Towson.
Podcast episode
Tarik Black, Andrew Wiggins & Joel Embiid discuss playing fast and having fun after 30-point win.
Kansas 88, Towson 58
Kansas University freshman center Joel Embiid had a career-high three blocks, most by a Jayhawk in a game this season, in Friday's 88-58 rout of Towson in Allen Fieldhouse.
"Coach (Bill) Self has been helping me with my timing," the 7-footer from Cameroon said. "They have been showing me what to work on along with showing me film of how Jeff Withey did it. They tell me to stay on the ground and not to go for it on shot fakes. It's a matter of timing," he added.
Embiid, who had eight rebounds in 19 minutes, also is starting to master the art of outlet passing.
"Every time the other team shot it they would have five guys crash the boards. So if I had the rebound, I would just throw the ball down court because I knew my teammates were getting out running," said Embiid, who had one assist.
Embiid went 4-for-5 shooting and has missed just one shot in his last two games and five all season to take the team field goal percentage lead at 72.2 percent.
Embiid's dad, Thomas, who saw Joel play basketball for the first time on Tuesday night versus Iona, stuck around for a second game. This time, Thomas did not wear suit and tie, but a more casual shirt and slacks.
Self on pulling away from Towson early: "I thought Andrew White came in and gave us some good minutes. Frank Mason was solid again. Our bench was pretty good. They were probably as good as our starters in the first half. The second half we didn't play quite as well (Towson outscored KU, 42-39) and that is kind of the tendency to let up a little bit. The law of averages kind of prevailed. We can still tighten up a lot of things, defensively."
This, that: Frank Mason had a career-high six assists against the school he signed with his senior year in high school. He also had six points and one turnover in 18 minutes. ... Tarik Black needs 37 more points to hit 1,000 for his career. ... Perry Ellis scored 10 points, his fourth-straight game in double figures to start the year, and 11th game with 10 or more in his career.
Tourney talk: Friday's game was part of the Battle 4 Atlantis tournament, but the result has no bearing on the actual tourney Thursday through Saturday in Bahamas.
Towson is not one of the eight schools making the trip to Paradise Island. Instead, the Tigers played Villanova and KU on the road in "guarantee games" that were part of the overall event.
KU will play Wake Forest in the first-round of the eight-team tourney at 2:30 p.m., Central time, Thursday in the Ballroom and Convention center of the Atlantis resort. A victory would push KU into the semifinals against Villanova or USC at 8:30 p.m., Friday. Teams on the other side of the bracket: Tennessee, UTEP, Iowa and Xavier.
The Ballroom and Convention Center seats 3,800. KU fans have already purchased about 1,600 tickets.
Josh Klingler will do the radio play by play for the three games in the Bahamas with Greg Gurley as color man. Veteran KU play by play announcer Bob Davis will work Saturday's football game against Kansas State with color announcer David Lawrence.