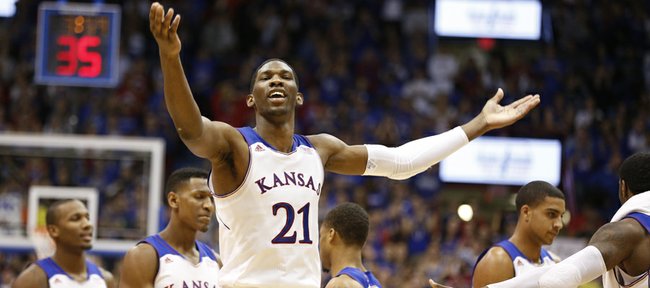 Photo Gallery
KU basketball v. Towson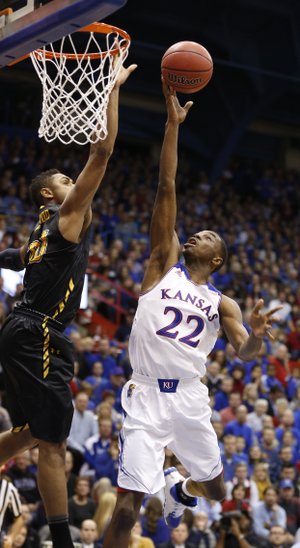 Images from Friday night's game between the Jayhawks and Tigers at Allen Fieldhouse
Podcast episode
KU men's basketball coach Bill Self talks about his team's offensive onslaught after 88-58 win over Towson.
Podcast episode
Tarik Black, Andrew Wiggins & Joel Embiid discuss playing fast and having fun after 30-point win.
Kansas 88, Towson 58
If given another opportunity to face No. 2 Kansas University, Towson basketball coach Pat Skerry thinks he might have discovered a way to slow down the Jayhawks.
Unfortunately for Skerry, whose team fell to KU, 88-58, on Friday at Allen Fieldhouse, his master plan would violate one of the most basic rules of basketball.
"They do such an unbelievable job of pulling it off the backboard and running it right down your throats, you'd like to have about seven guys to get back defensively," Skerry said.
Transition defense was one of the top priorities for Towson (3-2) heading into Friday's match-up, but even with sound advice and coaching tips from Skerry playing on a loop in his players' heads, they were rendered helpless against the bigger, faster, more athletic Kansas lineup, which outscored Towson, 29-8, in fast-break points, a margin that only looks slightly better because of six late transition points from the visitors after Kansas emptied its bench.
"In the first half we shot a bunch of long shots," said Towson senior Jerrelle Benimon, who scored a game-high 21 points. "And a bunch of long rebounds came off and were bouncing out and they were getting easy layups and dunks."
On most nights, Towson is a strong offensive rebounding team because Skerry likes to send four, sometimes even five, guys crashing to the offensive glass. Friday night, the Tigers made it a point to send two guys back on defense after every shot and even that could not slow down Kansas.
"We had to," Skerry said.
Asked what made KU's transition game so effective, Skerry rattled off a half a dozen different factors which covered everything from length, speed, depth and talent. He then summed it all up and placed a nice bow on top.
"Their transition attack is special," he said. "Their first three steps out of the gate are ridiculous."
Benimon said he had not seen KU (4-0) play much this season and, therefore, did not realize just how deep KU was. Ten Jayhawks played 12 minutes or more against the Tigers, with two others playing six minutes or better.
"They have good depth," Benimon said. "They have a bunch of players. I didn't realize they played that many players... All of them run, so they just get up and down. I felt like when they were getting out (in transition), they were at their best."
Different versions of the word "best" were kicked around throughout the Tigers' postgame news conference. But none painted a more clear picture of Skerry's assessment of the Jayhawks than his opening statement following the 30-point loss.
"If there's a better team in the country, I'd like to find out who they are," he said. "I certainly don't want to play them."
More like this story on KUsports.com