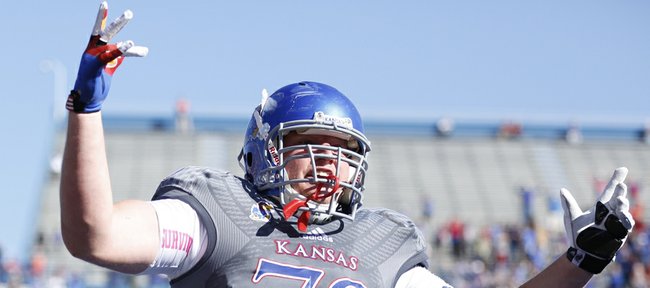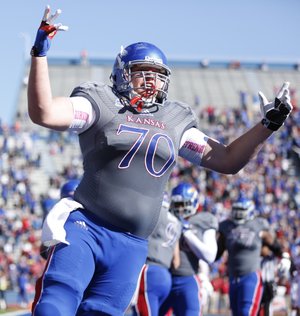 Ames, Iowa — It's a bit of a leap to connect what happens at a school desk with an open math book to the rugged goings-on along the offensive line, but for this year's Kansas University football team, familiarity in one area helped fix another back in early October.
That's when KU senior Gavin Howard first was plugged into the lineup as the Jayhawks' starting center, and that's when things started to come together for the offensive line.
After spending the first few games of his fifth and final season of college football as a spectator in the stands, Howard worked his way back onto the depth chart out of necessity. The Jayhawks went through three centers before calling Howard's name, and each one struggled. Too small. Too green. Too inconsistent. Too timid. The problems were plentiful and severely stalled KU's running game, which had been a huge strength in 2012.
With nowhere left to turn and a big, physical, confident senior sitting idly by, Howard got his shot and will make his seventh consecutive start at 7 tonight when KU (3-7 overall, 1-6 Big 12) goes after another Big 12 victory at Iowa State (1-9, 0-7).
With two games remaining in his football career — Howard recently was hired as a financial analyst by ConocoPhillips and will start work in Bartlesville, Okla., on Jan. 13, right around the time several of his teammates begin preparing for their shot at pro football — the senior from Owasso, Okla., recently sat down and explained why it all came together and how thankful he was that it did. It turns out his longtime role as a tutor to his offensive-line-mates paved the way for Howard to become the anchor of this year's O-line despite never having played the position before.
"If you would've told me before the TCU game (Oct. 12) that this was how it was gonna end, I wouldn't have believed you," he said. "But the fact that we have a chance to finish out this season 5-7, it would really be a nice ending to my career."
Howard said he had tutored every one of the Jayhawks' starting linemen and several of the second-string guys at one time. But fellow senior Aslam Sterling is one of his prized pupils.
Never one to enjoy math, Sterling spent nearly as much time hitting the books with Howard as he did hitting defensive linemen on the opposite side of the line of scrimmage. As it turned out, Howard approached playing center much the way he handled his tutoring role in the dorms.
"He just makes it simpler than how a teacher would explain it," Sterling said. "He's like, 'This is what you need to know, and this is what you need to focus on.'"
It has obviously helped. Not only have the Jayhawks set a program record in back-to-back seasons by landing 19 players on the All-Big 12 academic teams, but they also have the highest sustained team grade-point average, semester by semester, during the past two years.
Thrust into unfamiliar territory at center, Howard utilized his successful strategy as a tutor to help bring together the Jayhawks' struggling offensive line.
"Same thing," Sterling said. "He makes it simple for us. When he comes out of the huddle, he's telling us everything, he's controlling everything from what down it is to who the (middle linebacker) is to which way the protection is going. He's controlling everything as he's walking up there. So when we get set, we know what to do."
Howard said the bond created from grinding through homework together makes it easier for KU's offensive linemen to see each other in a different light.
"I think that adds an extra element of respect that we have for each other," Howard said. "We have that level of trust within each other, and that has helped us on the field."
Sterling agreed and said he always had been impressed with Howard's demeanor and willingness to do anything for any one of his teammates on the field or during those late-night study sessions.
"You kind of look at him not only as a football player but as a teacher, too," Sterling said. "And a teacher has, like, the highest standard. Even going back to last year when he was playing right tackle and then I started (in place of him), he never got sour about it. He always had good spirits and let me know how I could get better, even when he was down."
With his career slipping away, Howard is living it up. Even though he hated sitting in the Memorial Stadium stands and occasionally being recognized as one of the players, he credited those early games for helping him realize what football meant to him.
"It was really difficult," he said. "I had a tough time with it. But it made me realize how much I really am going to miss it."
To that end, the redhead with the 4.0 GPA, whom Sterling said loves to argue even when he knows he's wrong, is getting his money's worth from his brain and his mouth on every play.
"(With) the time requirements that it takes to play football and being a great student, that's a great compliment," KU coach Charlie Weis said. "So if he wants to go out there and talk trash on the field, so be it. Sign me up. Normally it's the defensive linemen talking trash. It's kind of fun to watch when one of the offensive guys is right there with them."
More like this story on KUsports.com