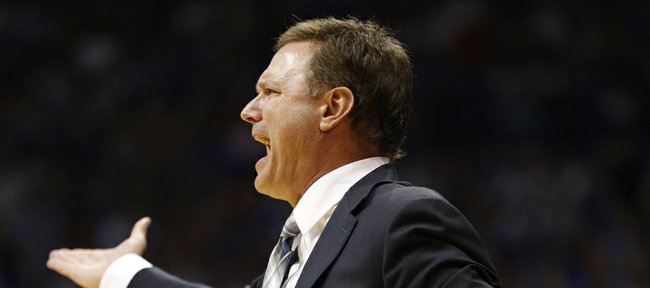 Bill Self, who, in his 11 years at Kansas University has occasionally provided pizza and donuts for students who camp out for seats at basketball games, never takes the Jayhawks' loudest, most creative supporters for granted.
"The students are great," Self said Wednesday on his "Hawk Talk" radio show. "We don't want to take away their enthusiasm."
At the same time, he requests that those students who sing "home of the Chiefs" at the conclusion of the National Anthem, return to singing the actual words of the song: "home of the brave."
"I don't think we should do that (sing 'home of Chiefs')," Self said, responding directly to a question from a Hawk Talk caller.
"It was a couple years ago we actually made a big deal out of that and the students complied and quit doing it for a period of time."
The "home of the Chiefs" lyrics disappeared in the 2012-13 season after Self spoke publicly about the matter in January of 2012.
"For whatever reason, I guess they've started doing it again. That's not what needs to be done in this particular situation. Especially in today's time when there's so much publicity and notoriety, rightfully so, to the men and women who sacrifice so much for our country," Self said. "I think it's probably not something we should do, but from a kids' standpoint I don't think they know they are in poor taste doing it. I think it's just something we should look at and realize, 'Hey, c'mon now, let's think about this before we actually do it.'"
Nobody knows exactly when it started, but some of the KU students in the end zones have been singing "home of the Chiefs" several seasons now, with the exception being last season.
Some of them perform the "tomahawk chop" when singing those words. It's a copycat of pregame at Kansas City's Arrowhead Stadium, where Chiefs fans have altered the words of the anthem in tribute to the home team for decades.
Of course, it should be noted many KU students do not take part in the altering of the song.
"That's one tradition that in my opinion certainly we could do without," Self told the Journal-World on Jan. 19, 2012. "I think it'd be more respectful toward the anthem and what that stands for to go ahead and use the actual words to it than putting in their own. I think they should stick to Francis Scott Key's words. I think that would be more appropriate."
Towson up next: KU (3-0) will next meet (3-1) Towson (Md.) at 7 p.m., Friday, in Allen Fieldhouse. Towson has won at home against Navy (72-45), Morgan State (95-75) and Temple (75-69) and lost at Villanova (78-44).
The Tigers are led by Pat Skerry, who is 22-45 in three years at the Colonial Athletic Association school.
Jerrelle Benimon, a 6-8 senior forward from Warrenton, Va., leads Towson in scoring (17.5 ppg) and rebounding (11.8). He also has a team-high 13 assists and seven blocks. Rafriel Guthrie, a 6-3 senior from Washington, D.C., averages 11.3 ppg, and Marcus Damas, a 6-7 senior from Bay Shore, N.Y., 10.8 ppg.
KU freshman Frank Mason committed to Towson his senior year of high school, but did not qualify academically at that time.
Proud papa: Joel Embiid's dad, Thomas, who attended KU's win over Iona on Tuesday night, attended practice Wednesday. Joel scored 16 points and grabbed 13 rebounds versus the Gaels while playing in front of his dad for the first time.
"What a nice man. You can see where Joel gets it," Self said. "This would be like you or me not growing up playing cricket and trying to figure out how it works and your son is out there playing and people are cheering for him ... it has to be a pretty cool feeling. He was bouncing around pretty good today. It was nice to see."
Thomas Embiid is a member of the Cameroon military. "He's a colonel," Self said. "I think Joel behaves when he's back home. When the colonel speaks, I think Joel does (listen). It was pretty cool to see them together."
Progress: Self on who was more advanced when first arriving at KU — Russia's Sasha Kaun or Cameroon's Embiid.
"I love Sasha but it's not close," Self said, giving the nod to Embiid. "Sasha is obviously stronger and more aggressive in some ways.
"If we ever let Sasha shoot a three-pointer it'd be the same result as Joel's (miss versus Duke)," he added with a laugh. "Jo is so advanced from a skill standpoint where Sasha is more advanced from a physicality standpoint."
Smith honored: Former KU player and assistant coach Dean Smith was one of 16 individuals awarded the Presidential Medal of Freedom Wednesday. The honor dates to an executive order from President John F. Kennedy establishing the award.
The Presidential Medal of Freedom is the country's highest civilian honor. According to the White House, this award is given to individuals, "who have made especially meritorious contributions to the security or national interests of the United States, to world peace, or to cultural or other significant public or private endeavors."
Smith competed at Kansas from 1949-53 and was a part of the Jayhawks' national championship team in 1952. Smith and the Jayhawks were national runners-up in 1953.
After graduation, Smith served as an assistant coach at KU under Phog Allen for the 1953-54 season. Smith then went on to coach North Carolina basketball from 1961-97, winning two national championships.
Former KU and current North Carolina coach Roy Williams attended the ceremony.
Overrated?: Iona's Sean Armand, who scored 14 points off 5-of-15 shooting in the Gaels' 86-66 loss to KU, tweeted this on Tuesday: "Of course this kid is the headline on espn. Overrated." He didn't say for sure, but apparently was referring to Andrew Wiggins, who scored 13 in the win.
More like this story on KUsports.com