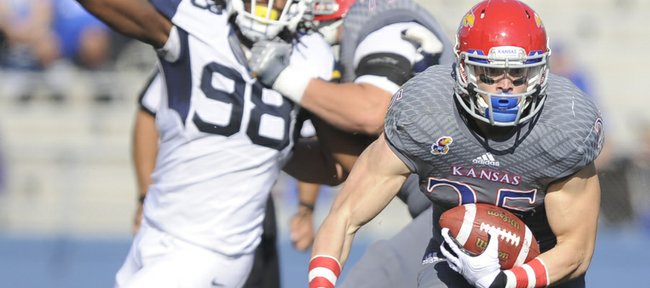 For the better part of 27 consecutive Big 12 football weeks, the majority of the Kansas University football roster went to class and walked the KU campus hoping to blend into their surroundings.
Losses have a way of turning even the most confident guys into wall flowers, and junior running back Brandon Bourbon said Wednesday that he and his teammates often moved from Point A to Point B without much peer interaction during the 27-game Big 12 losing streak that came to an end last Saturday with KU's 31-19 victory over West Virginia.
"Yeah," Bourbon said. "You felt kind of embarrassed."
That, however, is not the way things have gone down this week, as the Jayhawks (3-7 overall, 1-6 Big 12) have been able to better enjoy their walks to and from classes in the wake of the first conference victory since 2010.
"You feel proud to go on campus and go to class rather than just sitting in a corner," Bourbon said. "Now, you just walk around feeling good and people are congratulating you on the win. And then the energy and juice in the building is just way high — higher than it's been since I've been here."
Bourbon said that vibe carried over into practice this week and added that he and his teammates are focused on trying to start a Big 12 winning streak when they face Iowa State at 7 p.m. Saturday in Ames, Iowa.
"People are happy to be out there rather than just, 'Here it goes, it's another day, let's see what happens,'" Bourbon said. "Now you're just happy to go out there and prepare for the next team so you can feel that (winning) feeling again."
It was not just the players who were energized by the Jayhawks' first conference victory under second-year head coach Charlie Weis.
"I (talked) to the team about taking this and running with it, versus being complacent," Weis said. "I told you last week my juice level was high and I think it'll be higher this week."
Underdog mentality?
Less than 24 hours after snapping a 27-game Big 12 Conference losing skid that fell just two losses shy of Baylor's conference record, the reenergized Jayhawks learned quickly that they again were underdogs and, this time, against one-win Iowa State.
In the hours and days since the Week 11 lines came out, the Jayhawks have used the perceived slight as motivation.
"Definitely," said KU senior Aslam Sterling. "Coach Weis sent out a text to the whole team talking about how (Iowa State is) 0-7 in the conference and yet people still don't respect us. That definitely lit a fire under us and makes us want to play harder to get our next win."
Cozart the starter
Last week, freshman quarterback Montell Cozart knew long before anybody else that he would make his first start against West Virginia. Now that he has — and with a victory on his record, no less — the Bishop Miege graduate has conducted himself the same way he has all season.
"Montell might be a young guy, but he's a natural leader by trade," Weis said. "Once you get a game like that under your belt, I think that it helps you. Now you go into the huddle and you feel more in command."
Although Weis insists Cozart is a solid passer and even has said that he'd like to dial up more through the air with the first-time starter, he has no plans to get tricky.
"When you're in a game like that, and you're running for over 300 yards and the linemen are controlling the line of scrimmage, why throw it?" Weis said. "It just doesn't make any sense."
Heeney clone?
Iowa State linebacker Jeremiah George leads the Big 12 in both total tackles (112) and tackles per game (11.2). Earlier this week, Weis gave an indication of why.
"Their middle linebacker, who's making plays all over the place, reminds me of Ben Heeney," Weis said. "I watch him play and I watch Heeney play, and they look like copy-cat versions."
George, who stands 5-foot-11, 219-pounds — Heeney is 6-foot, 230 and has 66 tackles in eight games — is a senior from Clearwater, Fla., and represents just one of the challenges facing the Jayhawks this weekend.
"I think we have a tough task, but this would be another major hurdle for our program if we can get up there to Ames and come out of there with a win," Weis said. "I think that would do wonders for us going forward."