Document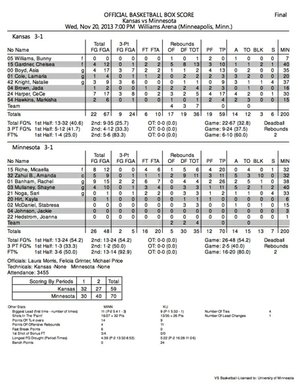 Minneapolis — Kansas University's women's basketball team couldn't overcome a poor second half and lost its first game of the season, 70-59, to Minnesota on Wednesday night.
Senior guard CeCe Harper led the Jayhawks with 17 points, five rebounds and four assists.
The Jayhawks held a 32-30 halftime lead, but shot just 25 percent from the field in the second half. Minnesota, led by an 11-point, 11-rebound, 10-block triple-double from Amanda Zahui B., shot 54 percent in both halves and pulled away at the end despite several Kansas rallies keyed by timely three-pointers.
Kansas' Chelsea Gardner double-doubled with 10 points and 13 rebounds in the loss, and Asia Boyd added 13 points.
Minnesota had two 20-point scorers in Rachel Banham (26) and Micaella Riche (20).
The Jayhawks (3-1) travel to the Virgin Islands for the Paradise Jam tournament next week. The three-game tourney begins Nov. 28 with a game against Central Michigan.