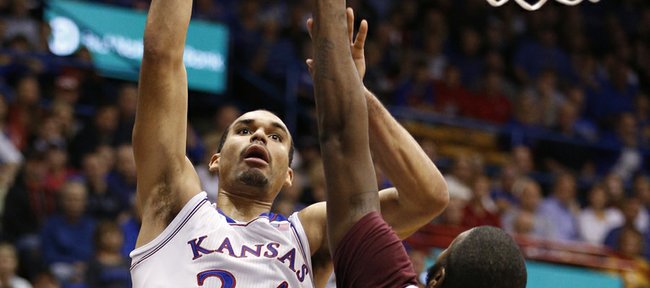 Photo Gallery
KU basketball v. Iona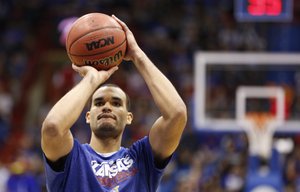 Images from Tuesday night's game between Kansas and Iona at Allen Fieldhouse.
Podcast episode
Bill Self says Joel Embiid and Perry Ellis were by far KU's best players in win over Iona
Podcast episode
Perry Ellis, Joel Embiid and Frank Mason share their thoughts on KU's 20-point win over Iona
Kansas 86, Iona 66
Playing in a basketball program that conceivably could have the first pick of the NBA Draft for the next two years — freshman Andrew Wiggins this year and Joel Embiid the next — it's easy to find something new and exciting to talk about on the way out of Allen Fieldhouse, easy to leave the Perry Ellis conversation for another day.
Unless, that is, you want to talk about the best player on the team.
On Tuesday, the same night that Embiid, a 6-footer's feet attached to a 7-foot body, put on a vastly entertaining show that screamed future stardom, Ellis was right where he always is, the foundation holding up a mansion.
Ellis is steady, all right, but leaving it at that comes up short. He's steadily spectacular. His patient footwork, which enables him to cover so much territory in every direction and eventually breaks down the defender, so often stands out. Against Iona, what he did when he was making mid-air adjustments and driving the baseline made him draw ovations.
Ellis went up in the lane for a shot, pump-faked in the air and shifted his release left, away from the defender, and kissed it off the glass for a bucket. On another play, again in the air in the lane, he shifted the ball from his right hand to his left and kissed off the glass. His quick baseline drive punctuated by a high-flying up-and-under was no routine play, either.
He consistently finds a way to score, and it's so vital to every basketball team to have a scorer who never drifts away, can always be counted on to kill droughts and get big buckets.
Ellis, a 6-foot-8, 225-pound power forward with a ton of finesse, contributed 21 points and seven rebounds and did not turn it over against a variety of zone defenses used by the Gaels.
"Perry is the perfect answer to that because he can knock that mid-range shot constantly, and he can get to the cup," freshman point guard Frank Mason said.
Ellis is averaging 19 points and eight rebounds and is shooting .724 from the field, .786 from the line. As a freshman, Ellis averaged 5.8 points and 3.9 rebounds.
"I feel a lot more confident, just trusting myself more, trusting the system," Ellis said.
Nobody has earned more trust from his coach than Ellis.
"He's been our most consistent guy without question," Kansas coach Bill Self said. "Perry's been terrific. And when some of our freshmen have been up and down, he's been kind of the rock for us. I've been very pleased with Perry."
At times Ellis on offense looks like a much shorter version of San Antonio Spurs superstar Tim Duncan, The Big Fundamental.
"I expected that Perry could be our leading scorer, without question. I've thought that all along," Self said. "I've expected him to be pretty good offensively. The thing of it is, we can all improve defensively, and he's one of the ones who can for sure. But offensively, he's pretty good when it leaves his hand."
Embiid's rapid progression can be traced largely to his graceful athleticism, extraordinary for his size, and to his already having polished skills and a nose for the ball. But guarding and being guarded by so many different styles of talented inside players is a factor as well.
"I would say this, we can't stop him," Embiid said of Ellis. "He has excellent footwork. You think he would go off his left shoulder, and then he would go with his right shoulder. Man, I don't know, he's hard to guard."
Hard to guard and easy to play alongside.
More like this story on KUsports.com