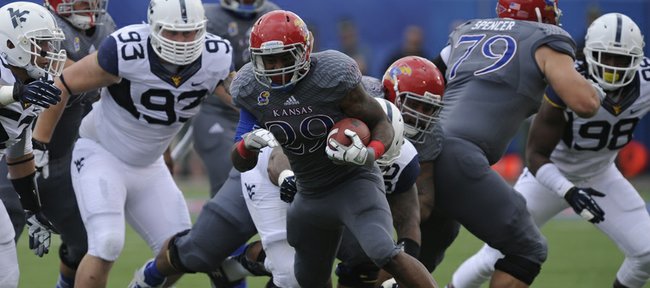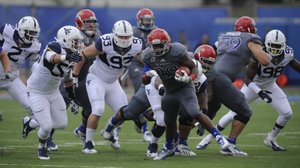 Heading into last week's game against West Virginia, Kansas University senior James Sims needed to average 219 yards per game in his final three games to move into the top spot on KU's all-time rushing list.
Never one to focus on individual accolades and always one to give all-out effort on every carry of every quarter in every game, Sims did not hit the field against the Mountaineers thinking about that number. But a few hours later, he left Memorial Stadium having come darn close to it, torching West Virginia for 211 yards and three touchdowns on 22 carries.
Those numbers earned Sims Big 12 co-offensive player of the week honors Monday — he shared it with Baylor QB Bryce Petty — and kept the top spot on KU's rushing list within sight. Sims currently ranks third on KU's all-time list with 3,396 career yards. While collecting the 446 yards he needs to pass June Henley (3,841) and Tony Sands (3,788) remains a long shot, Sims has not given up.
"I feel like I can," Sims said. "We just have to take what we did (against West Virginia), take it through practice, go to Ames (Iowa) and try to do the same thing."
Passing Sands and Henley could have been easier by this point. Assuming Sims had gained his career per-game rushing average (81 ypg) during the three games he missed because of suspension at the beginning of 2012, the Irving, Texas, native would need just 203 yards to reach the top spot.
But Sims never has dwelled on missed opportunities, so instead of thinking about what could have been, he moved forward with his mind fixed on giving it his best shot.
"During the offseason, that was my main goal — leave Kansas as the No. 1 running back," Sims said. "That's all I had in my mind, and we're slowly, gradually getting to where we were (as a rushing team). If the record comes, it comes. If it doesn't, it doesn't. Wins are better."
In addition to shooting for the mountain top, Sims also has a couple of other significant milestones within reach.
So far this season, he has 914 yards in 10 games and needs just 86 yards in the final two weeks to rack up his second straight 1,000-yard season. He needs at least 100 yards rushing in those two weeks combined to reach a new career high for a single season.
And then, of course, there also are two games left on the schedule: two more chances for Sims and his teammates to leave the field with the same vibe that filled Memorial Stadium after last week's victory over West Virginia.
"It's a great feeling," Sims said. "To know all the stuff we've been through and what we had to overcome … for us to stick together still, just shows a lot as a team."
KU-KSU set for 11 a.m.
The 2013 Sunflower Showdown between KU and Kansas State will kick off at 11 a.m. on Nov. 30 at Memorial Stadium, the Big 12 Conference announced Monday.
The game will be televised by Fox Sports 1 and will be the season finale for the Jayhawks, who will play at Iowa State at 7 p.m. Saturday.
Road streak next?
With the 27-game Big 12 losing streak now a thing of the past, KU turns its focus to snapping another skid — consecutive road losses.
It has been more than four years and parts of five seasons since the Jayhawks last won a road game. The date was Sept. 12, 2009, and Todd Reesing and company drubbed UTEP, 34-7, in El Paso, Texas.
Since then, KU has lost 23 true road games and also dropped three games to Missouri at Arrowhead Stadium in Kansas City, Mo., pushing the streak of consecutive losses away from home to 26.
Saturday's game at Iowa State marks KU's final road game of 2013, and coach Charlie Weis said Monday that his team already had moved past last week's win and had zeroed in on the next goal.
"We still have two more opportunities to get rid of a couple other things that are on the list of things that change the program," Weis said. "... Going up to Ames on Saturday night is gonna be a tough game against a tough opponent and that's their last opportunity this year to try to (get a win on the road)."
More like this story on KUsports.com