Sunday, November 10, 2013
Document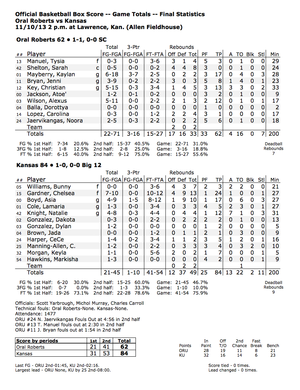 Junior Chelsea Gardner achieved her fifth-career double-double to help Kansas University's women's basketball team open its season with an 84-62 victory over Oral Roberts on Sunday at Allen Fieldhouse.
Gardner led Kansas with 24 points, just two points shy of her career-high, and 13 rebounds. Gardner also broke her career-high in free throws made and free throws attempted with 10 and 12, respectively.
As a team, Kansas broke the school record for free throws made and free throws attempted by making 41 of 54 shots from the foul line.
KU junior guard Asia Boyd added 17 points and 10 rebounds for the second double-double of her career, and junior guard Natalie Knight, playing her first game since tearing an anterior cruciate ligament last season, had a career-high seven assists, to go with 12 points and four rebounds.
Check back later at KUSports.com and in Monday's Journal-World for more on KU's season-opening win.