Photo Gallery
KU football v. Oklahoma State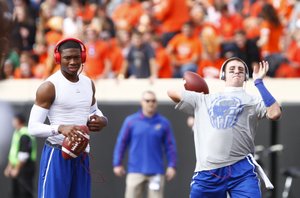 Images from Saturday's game between Kansas and Oklahoma State in Stillwater, Oklahoma
Podcast episode
Charlie Weis post-game press conference after 42-6 loss at Oklahoma State
Stillwater, Okla. — What better way to honor Barry Sanders than to run the opening kickoff back for a touchdown. That's what Sanders did to start the 1987 and 1988 Oklahoma State football seasons. And that's what Sanders watched Justin Gilbert do to open the Cowboys' 42-6 rout of Kansas University at Boone Pickens Stadium.
Sanders was in attendance to partake in the 25-year reunion of the '88 Cowboys, a team that revolved around Sanders, the Heisman Trophy winner in what many believe to be the greatest individual season in college football history.
Sanders rushed for 2,628 yards and 37 touchdowns and averaged 239 yards per game. The 222 yards and five rushing touchdowns in a 62-14 victory against Wyoming in the Holiday Bowl did not count because bowl statistics were not included in season or career totals until 2002.
Asked what he remembered about the season, the modest Hall of Fame running back said, "I remember being real fortunate to have five fifth-year senior offensive linemen, a fifth-year senior fullback, and of course Mike Gundy at quarterback and Hart Lee Dykes at receiver."
Sanders also said he remembered that a member of the KU football coaching staff contacted him when he played for Wichita North High.
"I'm not sure to what degree, but I do remember talking to the Kansas coaches," Sanders said before Saturday's game. "I don't remember who it was there. They were pretty well down at that time, Kansas and Kansas State."
Bob Valesente was KU's coach when Sanders was being recruited out of Wichita.
Sanders played three seasons at OSU (1986-88) and was recruited by all three Kansas Div. I schools. Wichita State did away with its football program after 1986, Sanders' freshman season.
"I grew up just a few doors away from Wichita State University and they recruited me, but pretty much recruited me very, very late in the game," Sanders said. "Again, I don't know to what degree Kansas recruited me, but they did."
Sanders went against his father's wishes in choosing to go to school at Oklahoma State.
"My dad really wanted me to go to Tulsa," Sanders said. "My dad was normally right — as he would tell you if he were here; I lost him a few years ago — he felt like there were too many running backs here and if I'd go there I'd play much earlier. He wasn't that pleased initially when I signed, but he eventually got over it. My mom was a big help with that. I think she reminded him that I'm one of 11 and he should be happy that someone's giving me a scholarship."
Sanders did have to wait until his junior and final season to become the featured back, playing behind Thurman Thomas for two years.
In Sanders' three seasons at OSU, KU never had a running back rush for more than 691 yards in a season (Arnold Snell in 1987) or more than three touchdowns (Snell in 1986 and 1987, Tony Sands in 1988).
Sanders shocked the NFL world by retiring, in his prime, after 10 exceptional seasons with the Detroit Lions and was inducted into the Hall of Fame in 2004.
"I think about it some, but that was the perfect time for me to leave," Sanders said. "It was something that I knew that I had lost that drive to play the game. I experienced 10 great years in the NFL, doing exactly what I loved doing and what I never dreamt I had a chance to do."
Asked to reflect on his Heisman Trophy, Sanders said, "To me it's just quite remarkable that I'm that guy. Nine, 10 years old, I was sitting there watching Tony Dorsett or watching Billy Sims and and then going out in my neighborhood trying to do the things they did. All the right things came together for me that year."
More like this story on KUsports.com