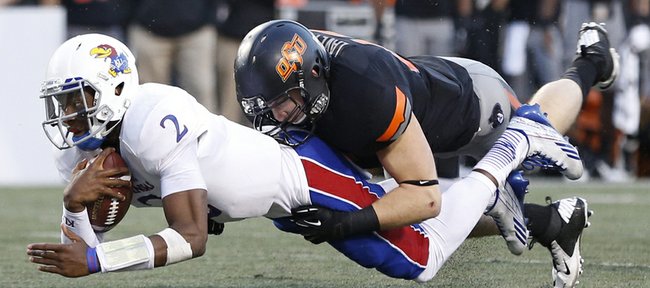 Photo Gallery
KU football v. Oklahoma State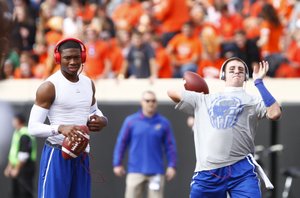 Images from Saturday's game between Kansas and Oklahoma State in Stillwater, Oklahoma
Podcast episode
Charlie Weis post-game press conference after 42-6 loss at Oklahoma State
Stillwater, Okla. — The scoreboard didn't reflect it, but for the first time since Todd Reesing, the little gunslinger from Austin, Texas, set the Kansas University football team on fire, the Jayhawks had a trigger man Saturday who was able to turn a broken play into an exciting one that made a defense that did everything right end up on the wrong end of a big play.
Montell Cozart, the true freshman quarterback from Bishop Miege High, couldn't make Kansas competitive in a 42-6 loss Saturday to Oklahoma State in Boone Pickens Stadium. Unlike with Dayne Crist a year ago and Jake Heaps this season, when the blitzers teed off suspense entered the equation. With Crist and Heaps, there was no mystery as to where they were going when the heat arrived. They were going down. With Cozart, the defense couldn't tell whether he was going right, left, backward, forward or all of the above on the same play.
Heaps started the game, but Cozart was in for the majority of the snaps on a day KU couldn't turn 202 yards rushing into a touchdown. That the revival of the running game would come on the same day Cozart played the majority of the time was no coincidence.
"He kind of bailed us out a number of times in the run game where there were plays designed to go to the right that he ended up going to the left just because that's Montell being Montell," second-year KU coach Charlie Weis said. "When the coaches want to yell at somebody for going the wrong way, sometimes I have to tell them to be quiet to not inhibit them because more often than not they'll make a play for you when they start one way and see nothing there and they know because of their feet they can bail themselves out of the problems."
Weis stopped short of saying he has found a new starting quarterback, but hinted that Cozart had helped himself more than he hurt himself on a day he completed 6 of 17 passes for 58 yards and ran for 55 yards (67 in gains, 12 in losses) on 18 carries.
Cozart's mobility comes in particularly handy for a team that has an offensive line that has trouble competing with defensive players blessed with superior speed up front. He gives defenses more about which to think.
"You could see the kid's got rare athleticism and he has a chance to cover a lot of sins," Weis said. "That's what we haven't been able to do since I've been here. He has a chance of helping us do that."
Cozart's scrambling ability gives receivers more time to get open and makes the defense pay even more attention to the run.
"You'll notice that the mentality of the defense changed when Montell came in because all those DB's that play deeper aren't playing deeper anymore," Weis said. "That's why we were throwing the ball over the top and letting him throw the ball. Most of his throws were deeper throws. I know his completion percentage wasn't good, but that's one of the things we have to be able to do if they want to bring nine up. There were a lot of players where it wasn't just a front seven. Those two safeties were seven yards from the line of scrimmage."
What we'll find out is whether Cozart, with more experience making him more comfortable looking for receivers, can spot which target is open and throw an accurate enough ball to hit him. He's KU's best option at this point.
"I think we're going to have to lean more to one over the other," Weis said. "Based off of this game, we obviously played Montell a lot more than Jake so that's a possibility. We'll wait and see what we've got and wait and see what we've got and see what West Virginia is too before we make that decision."
Faced with a decision to play Crist the passing quarterback or Michael Cummings the runner in the season finale against West Virginia, Weis went with the runner and the Jayhawks got blown out.
It's not exactly the same decision this year. Cozart's both a runner and a passer and it's time to see what he can do when given his first collegiate start.
More like this story on KUsports.com