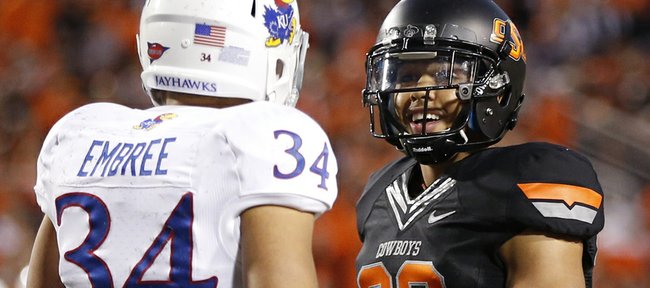 Photo Gallery
KU football v. Oklahoma State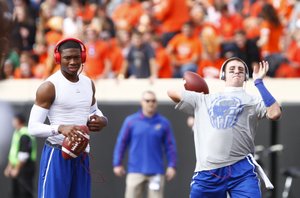 Images from Saturday's game between Kansas and Oklahoma State in Stillwater, Oklahoma
Podcast episode
Charlie Weis post-game press conference after 42-6 loss at Oklahoma State
Stillwater, Okla. — For much of the past few seasons, cornerback Tyler Patmon sat in the Kansas locker room and dealt with the disappointment of another tough loss or a new embarrassing defeat.
Saturday, following Kansas University's 42-6 loss at Oklahoma State, Patmon, now a fifth-year senior for the Cowboys, was a little more upbeat while his former teammates went through those same old emotions.

Patmon, who transferred to Oklahoma State for his fifth and final season of eligibility following the 2012 season, served as a captain for the Cowboys on Saturday, a sight that was not overlooked by his former teammates.
"It was definitely weird, but I'm happy for him," said KU receiver Andrew Turzilli, who was covered by Patmon a couple of times during Saturday's loss. "He's doing good here. He made some plays, they got the win."
Patmon was animated throughout Saturday's game, but Turzilli and KU cornerback JaCorey Shepherd said they felt their former teammate's energy was all in good fun.
"Nothing bad (was) said," Turzilli noted. "We're friends. As you saw, he made a few plays and he was jawing at our sideline. I'm sure it was real fun for him."
Added Shepherd: "I saw him a little bit and talked to him before the game. It wasn't much. It was more of a good luck thing. But it was kind of weird being in that situation. I'm happy for him and glad it worked out for him."
Pierson plays
KU junior Tony Pierson returned to the field for his first full game since suffering a concussion in KU's loss to Texas Tech on Oct. 5, and made an immediate impact. Pierson was targeted on three of KU's first four offensive plays and finished the day with 87 yards rushing on six carries — including a 50-yard sprint in the second quarter — and provided KU's offense with more versatility than it has enjoyed in weeks.
"Every time he touches it, we get him in space," KU coach Charlie Weis said. "That's our form of throwing the ball down the field."
As for how Pierson fared health-wise?
"You could see that he wasn't as sharp as he normally is," Weis said. "He had been out for a while, but, based off it being his first game back, he held up pretty well."
Miller absent
KU running back Darrian Miller missed Saturday's game because he was dealing with "personal issues," according to Weis, who said the sophomore running back was not in the dog house.
"It has nothing to do with football," Weis said. "And also nothing to do with school either."
Also absent Saturday was junior wideout Rodriguez Coleman, who injured his knee in last week's loss to Texas.
"He's close," Weis said. "But he really couldn't burst this week. We kept him home to get him treatment (Friday) and all day (Saturday) so we can have him back. I would rest assured he'd be ready to go for this week's game."
Doherty makes good
A week after replacing Matthew Wyman as KU's place kicker, senior Ron Doherty missed his first field goal try on Saturday, when he bounced a 32-yard field goal try off the left upright. Doherty later atoned for the miss, making kicks of 40 and 29 yards to account for KU's only points.
"I'm glad that I didn't just flip the switch after he missed the first one," Weis said. "I wanted to. I wanted to, but I've shown extreme patience and I was glad he came back and hit the next two."
Asked if he said anything to Doherty, who received immediate encouragement from teammate Ben Heeney after the miss, Weis indicated that he didn't need to.
"Usually my look is bad enough," he said. "Non-verbal communication is very effective in most cases."
This and that...
The Jayhawks won Saturday's opening coin toss for the fourth time this season and chose to defer their choice to the second half. Oklahoma State elected to receive the game's opening kickoff.... KU is now 29-32-2 all-time against Oklahoma State.... Junior linebacker Ben Heeney led KU with 11 tackles.... Junior Buck Michael Reynolds' sack in the third quarter gave him a team-best 5.5 sacks this season.... Temperature at kickoff was 67 degrees, under sunny skies with winds of 4 mph out of the southeast.