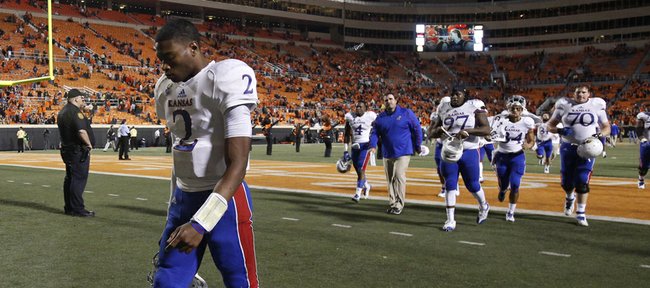 Photo Gallery
KU football v. Oklahoma State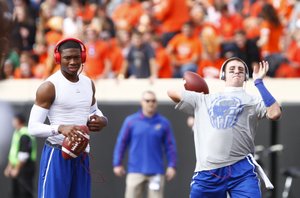 Images from Saturday's game between Kansas and Oklahoma State in Stillwater, Oklahoma
Podcast episode
Charlie Weis post-game press conference after 42-6 loss at Oklahoma State
Stillwater, Okla. — Thirteen seconds. That's all it took the Oklahoma State football team to demonstrate that Saturday would belong to the Cowboys and not the Jayhawks, who dropped their 27th consecutive Big 12 game, 42-6, in front of 58,476 fans at Boone Pickens Stadium.
The revelation really took less time than that, as it was clear about six seconds into Justin Gilbert's game-opening 100-yard kickoff return that started the scoring that OSU's burner was gone.
"When you're playing a game to try to keep it into a certain point range and you start off with that one, it was a little deflating," said KU coach Charlie Weis following the loss. "It was still just one play, but can you pick a worse way to start a game?"
Added KU cornerback Cassius Sendish, who watched the return from the bench while waiting to take the field: "You can't let (13) seconds dictate the whole game. It's a 60-minute ball game. Plays are gonna happen, the other team's gonna make big plays and we gotta make big plays, as well."
So lopsided was Saturday's match-up with the 14th-ranked team in the country, that freshman kicker Ben Grogan's extra point that followed Gilbert's gallop proved to be the game winner.
Weis, who had one of the best views in the house of the Gilbert return, described what he saw.
"A couple guys got kicked out, one guy got locked onto the block and the guys on the back side didn't come over the top," he said. "You could see it materializing. Unfortunately, it was right in front of me."
Gilbert, who entered the day averaging 21.2 yards per kickoff return, explained what went through his mind as he caught his breath.
"There's no better way to start a game," said the senior from Huntsville, Texas. "Especially with Barry Sanders in the building."
Sanders, the NFL Hall of Famer and former Oklahoma State standout, was in attendance as part of a celebration of OSU's 1988 squad. While the opening play may have been the game's biggest highlight, the Cowboys (8-1 overall, 5-1 Big 12) made sure to give the former Detroit Lion plenty more to be proud of throughout the afternoon.
At the time, the Cowboys did not know that seven points was all they would need. And they played like it, racing out to a 28-0 halftime lead and putting together all six touchdown drives in just 7:37 combined minutes.
Each OSU drive took less than two minutes off the clock, with the shortest non-kick-return drive taking just 1:16 and the longest 1:51.
"They had a bunch of big plays," Weis said. "They threw the ball over the top of us all day, and that really hasn't been happening. They had a bunch of chunks in the passing game and none of them were short ones."
KU's first-half numbers weren't all bad. The Jayhawks ran for 117 yards — against the top-ranked rushing defense in the Big 12, no less — but the yardage produced zero points. By game's end, KU had tallied 316 yards of total offense, including 202 on the ground, but had just six points to show for it.
Defensively, the Jayhawks were not at their best either, and Sendish said he could not think of one thing his unit did well. But the fact remained that the Kansas defense could have limited the Cowboys to half as many points as they scored but still not done enough to overcome KU's struggling offense.
Having scored 19 points or fewer for eight straight weeks, things are starting to reach historic territory for the Jayhawks. The last time Kansas went this long without reaching 20 points in a game was from Oct. 11, 1986 to Oct. 17, 1987, when Bob Valesente's squad played 13 consecutive games in the teens or less. That stretch included three shutouts in a row but also included a 16-15 victory over Southern Illinois.
Perhaps the worst part about all of this offensive futility for the Jayhawks (2-7 overall, 0-6 Big 12) is that the current eight-game struggle is the second longest in the past 28 years, with last year's stretch of five in a row — matched by a similar run in 2005 — placing third on the list during that same time. Other than those four paltry point-scoring streaks, KU has experienced four straight games in the teens three times and several other three-game lulls.
"I could sit there and give you 15 excuses but I'm not gonna do that," said Weis when asked if Saturday's season-low was a sign of things getting worse and not better. "In the first half, I thought we were moving the ball fairly well, but, at the end of the day, it's not about how you're moving the ball, it's about point production."
If there was anything good that came out of Saturday's loss, it was the play of freshman quarterback Montell Cozart, who looked as good and played as much as he had during any game this season. His numbers 6-of-17 passing for 58 yards and 18 carries for 55 yards — didn't show it, but Weis and the Jayhawks liked what they saw.
"Sign me up," Weis said.
Added wide receiver Andrew Turzilli, who returned from injury to catch two balls for 54 yards: "I like a lot of things about Montell and he's only gonna continue to get better. Of course it doesn't feel good, losing. But it definitely felt better that I got the opportunity to try and help this offense. Clearly, we still have a ways to go and that's frustrating."
More like this story on KUsports.com