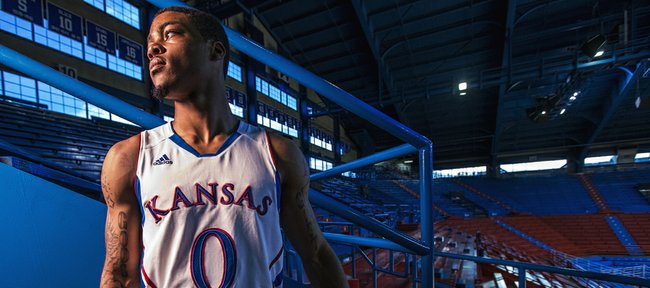 Frank Mason reflected on the day a West Virginia University football coach attended the Petersburg (Va.) High basketball practice to see his teammate, offensive lineman Quinton Spain.
"We were doing footwork drills," said Mason, a 5-foot-11, 185-pound point guard. "I was a strong, little guard and the coach was like, 'You shouldn't be playing basketball. You look like a nice cornerback.' I didn't play any football in high school."
It's always nice to receive a compliment, but Mason didn't give it a second thought that day.
"The next day of school they took me out of class and talked to me and wanted to offer me a scholarship," Mason said.
Watching one basketball practice was enough to convince the coach. That's the sort of loud speed, strength and agility Mason brings to the Kansas University basketball program.
"We've had some guys who are pretty fast. I don't know if we've had anybody other than Tyshawn (Taylor) that's for sure faster with the ball than he is," 11th-year Kansas coach Bill Self said. "I think when he gets comfortable and turns it loose, we'll see another gear because right now he's playing safe a little bit, which is what I want him to do until he gets comfortable. But he is fast with the ball."
Plenty of great athletes don't make it to Division I schools because they can't push themselves hard enough to get there. That never was a problem for Mason, according to a KU teammate who said he has known him since he was 10.
"I'm just happy for him because we grew up together," sophomore Andrew White III said. "Now seeing him on this stage, playing so well, it means a lot to me, too."
Mason and White teamed for a couple of years of AAU ball and played against each other for four years in high school.
"We had a lot of fun," Mason said. "He's a shooter. He always could shoot, but he has gotten a lot better. He attacks more. He can handle the ball better. He wasn't the best back in high school at that. He's more aggressive and strong. He just became real strong."
Strength never was an issue for Mason. Making school a top priority was. He comes to Kansas from Massanutten Military Academy in Woodstock, Va. If he had passed his U.S. government class as a senior at Petersburg High, he would be passing basketballs for Towson University, not hearing his name called with four other starters in Allen Fieldhouse in tonight's season-opener. He's starting in place of Naadir Tharpe, suspended for one game.
Mason said he fell three points shy of passing that class. He passed it late summer, he said, but by then he was on his way to a year of strict preparation as a student, a person and an athlete.
"It was a bad thing at the time," Mason said about not passing the class. "It's a good thing now."
In between high school and KU, he spent a year at the military academy, rising at 6:15 every morning, marching in uniform with the rest of his company three times a day, including in formation on the way to breakfast.
"My year at the military school my coaches really pushed me," Mason said. "They worked us every day, no days off, just a lot of days of getting better, getting stronger and becoming more of a leader. I became a better basketball player and a better individual off the court too."
The driven personality preceded the marching in formation, in uniform.
"People told me I would never make it out of the city of Petersburg and I did," he said. "They said I wouldn't graduate high school, which I did. They told me I wouldn't make it through Massanutten, and I did that too."
As is the case with so many athletes who spend a lot of time surrounded by taller men, Mason has a knack for fueling the disadvantage into an edge. He said he thought the first time he executed a between-the-legs-in-mid-air dunk came during his junior year at Petersburg, where he ranks second on the career-scoring list to Hall of Fame center Moses Malone.
"One day after a high school practice, I was 5-9, maybe 5-10 then," Mason said. "I just told a couple of players I thought I could do it. They said I couldn't. I proved them wrong and they just left the gym. Walked right out the door."
For one game, Tharpe's door closed because he played in a summer league game in Chicago. The starting opportunity opened for Mason. To get him used to the role, Self started Mason in the 92-75 exhibition victory against Fort Hays State. Afterward, Self said he thought Mason was the team's best player in the game.
"I was just confident from Day 1," Mason said of making the adjustment to college basketball, surrounded by more famous teammates everywhere he looked.
That attitude, he said, carried over to the Fort Hays State starting assignment.
"I know what my ability is and I just believed in my teammates," Mason said. "I was never nervous. I was prepared for that game. I just believed in my teammates and made it happen."
Mason will be asked to do the same tonight. The teammate who has known him the longest believes he'll deliver the basketball on time and in stride.
"I've always seen him rise to the occasion, two of us as kids, playing against grown men," White said.