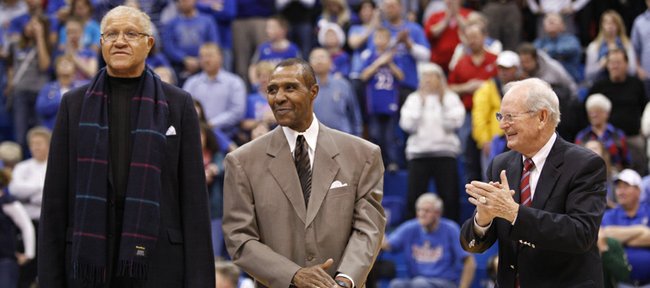 The only drawback in rooming with Ted Owens on golf excursions to Scotland and Ireland, Bill Self says, is the 84-year-old former Kansas University basketball coach's habit of rising before the sun.
"He wakes me up doing his pushups and calisthenics at 6 every day," Self, KU's current coach, said after Sunday's "An Evening With Ted Owens," held in the Kansas Union Ballroom. "I lay down about 2 (a.m.), and he's getting up at 6 every day."
Self, who wrote the foreword for Owens' just-released biography, "At the Hang Up," has walked close to 20 golf courses with former KU hoops coach Owens, including St. Andrews and Pebble Beach.
"I love the guy. He's one of the nicest people I've been around," Self said. "The competitive streak comes out in him. I will tell you this, I love having him on my team because he's not going to putt anything outside of 6-feet. Those are gimmies. He'll tell everybody, 'I'm picking that up.' He's the guy you always want on your team if you are playing a golf match."
Self still has a ways to go to catch Owens, who worked 19 seasons at KU; Self is beginning his 11th.
"Bill Self has made me and my family, my players, feel such a part of Kansas basketball," Owens said in a speech and question-and-answer session at an autograph signing of Owens' new book.
"The only problem ... winning nine straight conference championships makes the rest of us feel we are dragging our feet," he added, smiling.
Owens captivated an audience of about 200 on Sunday night in the same ballroom where Frank Sinatra once performed. The native Oklahoman spoke for more than an hour.
Several of Owens' former KU players attended, including Bud Stallworth, who introduced Owens; Tony Guy, Harry Gibson, Ron Lang and Al Lopes. Also, members of the 1952 national title team were on hand, as well as several members of KU's athletic department during the Owens era.
"You are one of the great individuals in my life. Next to my father, you are one of the most important men in my life," Stallworth told Owens.
"Coach Owens always got the best out of us," Stallworth added in thanking Owens for starting the process of recruiting him following his attending a KU band camp as a high schooler from Alabama. KU great Jo Jo White had told Owens he might want to pursue the player who was lighting up the gym in summer pick-up game action.
"Imagine today a musician in music camp getting recruited to the University of Kansas. It wouldn't happen," Stallworth said.
Owens told a humorous story about former Missouri foe Norm Stewart.
All Big Eight teams used to stay at the Muehlbach Hotel in Kansas City, Mo., during Big Eight tournament time, and Owens often rode the elevator at the same time as Stewart and his young daughter.
"Norm's daughter, Laurie, loved me, and it drove him crazy," Owens related. "One time, Rich Daly (Stewart assistant) said, 'I've got to tell you something funny. Last night, Laurie was there for the game, and Norm looked at her, and he said, "Laurie, I don't like that you like Ted Owens." He said, "If you'd hear what that S.O.B. used to say about me in recruiting, you couldn't possibly like him."'
"Even today, when I run into them at the Final Four and Laurie will be there with her mother and dad, she'll hug me, and you'll see it in Norm's eyes."