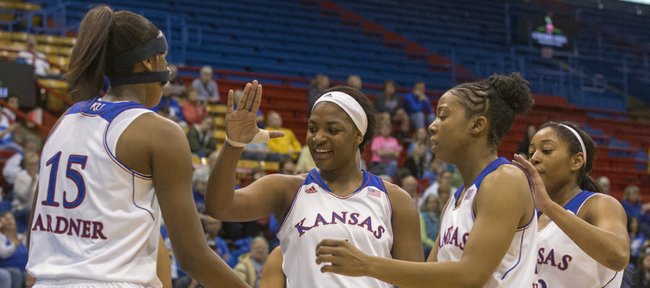 Sometimes, the game of basketball can be summed up pretty simply.
Given the box score, one wouldn't have needed a calculus class — or even a calculator — to see the main reason for the Kansas University women's basketball team's 61-53 exhibition victory over Div. II Emporia State on Sunday afternoon at Allen Fieldhouse.
KU made 22 of 60 field goals. ESU made 14 of 60.
And according to KU coach Bonnie Henrickson, it wasn't always the Jayhawks' defense that kept the Hornets from scoring.
"Someone asked me if we changed things defensively or adjusted, and I'm honest. The honest answer to that is no," Henrickson said. "We tried to pressure the ball a little bit more, but they missed shots right in front of the rim.
"If they make some of those, it's a whole different feel and a whole different ballgame."
ESU — ranked fifth nationally in the Div. II preseason poll — was especially cold in the second half, making just two of its first 25 field goals (8 percent). The Hornets ended up connecting on only 14 percent of their second-half shots (five of 35), which included quite a few attempts in the lane.
"Obviously, their length and athleticism keeps you from doing a lot of things," ESU coach Jory Collins said, "but I know we left — I hate to say it — 10 to 14 points probably that should have just been givens for us."
The most positive part of the game for Henrickson was her team's game-changing run at the start of the second half.
After taking a 33-31 lead at the break — KU actually trailed, 12-4, after the game's first five minutes — the Jayhawks opened the second stanza with a 7-0 spurt, running their best offense of the day while creating opportunities with dribble drives.
"I thought we were aggressive, but we had some poise," Henrickson said.
KU's lead never dipped under seven after that, as ESU couldn't put in enough shots to make a significant run.
"That's a talented team ... a really talented team," Henrickson said. "We're fortunate they missed some shots."
The Jayhawks also were helped by senior leadership. CeCe Harper was a steady presence while mostly playing the point-guard position. She led KU with 15 points on 6-for-10 shooting. Six of her points came on stickbacks, and the 5-foot-8 guard also collected four offensive rebounds.
"I just knew we needed some energy," Harper said. "I knew this was a game that we needed to win, and it was a game that would build our confidence for the season starting next weekend."
Natalie Knight added 13 points, which included 3-for-5 three-point shooting. While battling foul trouble, Chelsea Gardner also contributed 11 points in 19 minutes.
Former Lawrence High guard Haley Parker started for ESU, scoring no points in 13 minutes. The senior missed both of her shots with an assist and a turnover.
"I used to come to a lot of games here, so it's always been a pretty special place," Parker said. "It's awesome to get to come here and play."
KU will open its regular season with a home game against Oral Roberts at 2 p.m. Sunday.
Before the game, Knight and Bunny Williams were named as KU captains for the upcoming season.
More like this story on KUsports.com