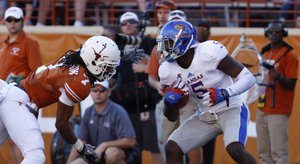 Through eight games of his first season at Kansas University, sophomore safety Isaiah Johnson is tied for the Big 12 Conference lead in interceptions with four.
And Johnson's KU teammate Dexter Linton may lead the conference in assists.
Saturday, during KU's most recent loss at Texas, it was Linton who first put his hands on the Case McCoy pass intended for Marcus Johnson early in the fourth quarter that eventually landed in Isaiah Johnson's arms. The pick was Johnson's second of the day and one that led him to send immediate gratification Linton's direction.
"We talked about it right after," Johnson joked. "I was just like, 'Man, I'm blessed for that one.' He tipped it right to me. He said he just tried to deflect it, and it went right to me."
The way the 6-foot-1, 210-pound Cary, N.C., native has played throughout his first season as a Jayhawk, no one would have questioned it if Johnson said he used Linton's hands on purpose for his fourth takeaway of the season and 21st interception in his last three seasons as a defensive back. For the most part, though, it has been pure skill that has led to Johnson being in opportunistic spots across the secondary week in and week out.
Asked if technique, vision, improved quickness or even luck were most responsible for his early KU success, Johnson could not pinpoint just one.
"All those things, really," he said with the chuckle of a fortunate man. "Basically, I'm just reading my keys, reading the quarterback and his arm and breaking on the ball and catching it with my hands. I'm just trying to make plays to help the team."
Johnson's road to Kansas and Big 12 football makes being listed as one of the conference's best in the statistic that matters most to defensive backs all the sweeter. Initially recruited by UConn and Arizona State out of high school, Johnson failed to qualify academically and instead signed with FCS school Western Carolina as a wide receiver. While there, he injured his knee, took a medical red-shirt and then transferred to Iowa Western Community College, where he earned honorable mention NJCAA All-America honors last season after hauling in eight interceptions and contributing 41 tackles.
Before officially signing with KU last February, Johnson described his game and provided a prophetic glimpse at what was ahead.
"I'm more of a ball-hawking safety," he said last December. "Anything in the air thrown my way I feel like I can pick off."
So far so good in that department, but KU's first-string strong safety who also leads the Jayhawks with 58 tackles is not satisfied with individual success or his spot among the Big 12's interception leaders.
"It's a good feeling," he admitted. "But, honestly, I'm just really focused on helping the team get their first Big 12 win."
Kansas (2-6 overall, 0-5 Big 12) has lost 26 consecutive Big 12 games dating back to 2010 and will get its next shot at breaking that streak at 3 p.m. Saturday at Oklahoma State.