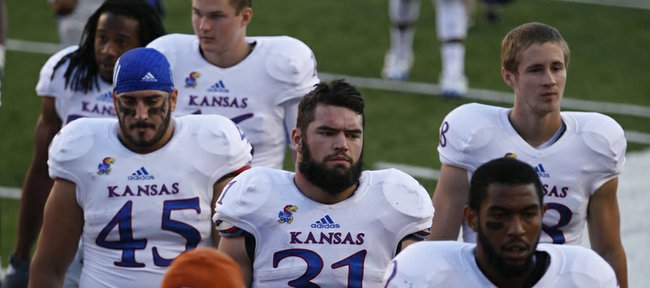 Photo Gallery
KU football v. Texas
Images from Saturday's game between the Jayhawks and Longhorns in Austin, Texas.
Podcast episode
Kansas coach Charlie Weis talks to reporters after the Jayhawks' 35-13 loss to Texas on Nov. 2, 2013.
Austin, Texas — It's been so long since the Kansas University football team celebrated a Big 12 victory, 26 games and counting, to be exact, it doesn't seem comfortable holding onto momentum, making big plays in the clutch.
The Jayhawks make a big play and within what seems like seconds, they self-destruct. A holding penalty here, running into the kicker there, a strip fumble, a fastball of a pass from close range when an off speed pitch was the pitch.
The record will show that Kansas kept it close in the first half and got blown out by Texas in the second half en route to a 35-13 loss Saturday to Texas inside Royal-Memorial Stadium.
The truth is Kansas lost the game in the first half with ill-timed self-destructive plays from the offense and special teams after the defense made big plays.
Safety Isaiah Johnson, the first Kansas player to intercept four passes in a season since Darrell Stuckey picked five in 2008, gave KU its first big play with his first of two in the game at the 29, ending the Longhorns' first possession.
James Sims turned two screen passes into 36 yards and mixed in a 15-yard run as Kansas drove it to the Texas 13, where Jake Heaps put too much mustard on a short pass to Tre' Parmalee and threw behind him, seemingly turning a shot at seven points into three points. Not so fast. Matthew Wyman missed a 31-yard field goal that cost him his job.
The kick, a wide left dead duck, looked as sloppy as KU's offensive line play.
Looking so undisciplined in the first half, Kansas was flagged for six penalties and 39 yards, compared to five yards in the second half.
The most self-destructive: Late in the first quarter, Billy Owens was flagged for running into the kicker, which gave Texas a fresh set of downs, instead of giving Kansas the ball near midfield with no score. The Longhorns went on to score.
"I let the young man know I wasn't very pleased with him because you have the ball inside their territory and you punted them down there and the defense held them down there, and you put the ball in fair field position," second-year Kansas coach Charlie Weis said after running his record to 3-17.
Subtract those seven points from Texas and add three to KU for the missed field goal and the score at the half is 7-6, instead of 14-3. It doesn't work that way, of course. Good teams make their own good breaks. Bad teams make their own bad breaks.
KU's offensive tackles continued to get beaten by faster men and flagged by referees, learning that if you can't beat 'em, cheat 'em doesn't work either.
With Texas looking to be on its way to its second scoring drive of the game, Jake Love and Ben Heeney, a pair of linebackers who know how to make their hits sting, stopped Johnathan Gray for no gain on fourth-and-1, giving KU the ball on its 19. That momentum didn't last a play. Pat Lewandowski was called for holding on first down.
Obviously, countless recruits say no to Kansas, yes to Texas, but when third-down conversion rates differ as much as Saturday's did, composure comes into play as well.
Kansas might be guilty of growing tight in big-play situations. During one of Heaps' better performances, KU's third-down conversion rate (four of 14) still spelled failure. Texas converted on nine of 17 third-down plays.
Then again, the worst KU play came on first down. Chris Whaley's 40-yard fumble recovery after Heaps was stripped of the ball made the Longhorns' lead 21-6 with 6:25 left in the third quarter.
"The whole game I was into it," Johnson said. "I knew we could come out and win. That one play when they had the return from the quarterback fumble. They just picked it up and it just seemed like the momentum changed, but we still held our heads high."
High enough to see a scoreboard that screamed a 15-point deficit with a quarter-and-a-half left. That doesn't sound like a very steep hole out of which to climb and for most it's not. For a team that has not yet scored as many as 20 points against a Football Bowl Subdivision opponent, it's a bottomless pit.