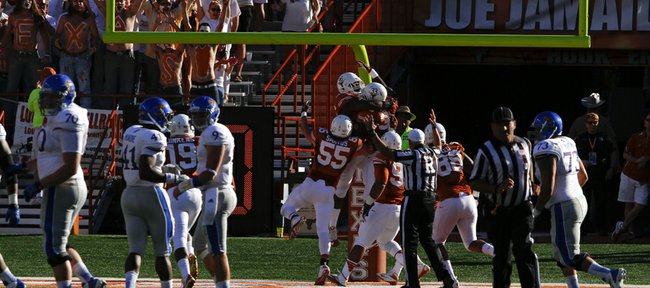 Photo Gallery
KU football v. Texas
Images from Saturday's game between the Jayhawks and Longhorns in Austin, Texas.
Podcast episode
Kansas coach Charlie Weis talks to reporters after the Jayhawks' 35-13 loss to Texas on Nov. 2, 2013.
Austin, Texas — The formula is starting to look the same, but that does not make it any less painful.
As has been the case throughout the season, Saturday's 35-13 loss to Texas at Darrell K. Royal – Texas Memorial Stadium unfolded in an eerily similar way. The Kansas University football team started fast but not fast enough to run away. The defense did most of the heavy lifting and made as many stands and stops as it could until it inevitably broke. And the offense, which now has scored in the teens for seven consecutive weeks, sprinkled a few good moments in with mostly bad ones and just could not find a way to put enough points on the board to prevent the Jayhawks from adding a game, a week, a source of frustration to its streak of 26 consecutive Big 12 setbacks.
Yep. That all happened again on Saturday against the Longhorns, who won for the fifth straight time after starting the season 1-2. But the most maddening part for the players, the coaches and, undoubtedly, the fans, was that, even with that scenario playing out week after week, the Jayhawks were in this one and, at one point, looked like they might choose to make this the week that things end differently.
Thanks to two short field goals from senior kicker Ron Doherty, who replaced starter Matthew Wyman after the hero of the Louisiana Tech game missed a 31-yard attempt on KU's opening possession, the Jayhawks trailed 14-6 midway through the third quarter, but were on a 6-0 run and had momentum firmly on their side following one of three three-and-out stops by the KU defense. What's more, KU's struggling offense, which finished the day with 306 yards (compared with 418 for UT) had possession at the Texas 46 and had its eyes on a game-tying score. But on the first play of the would-be drive, KU's offensive line was blown up and quarterback Jake Heaps, who did all he could to avoid the rush, fumbled under a tidal wave of burnt orange and then watched defensive tackle Chris Whaley rumble, untouched, 40 yards to the end zone to give Texas (6-2 overall, 5-0 Big 12) a 21-6 lead and complete control.
"The strip-sack fumble was, obviously, the key play of the game," KU coach Charlie Weis said after the loss. "All the momentum in the game changed in one play, and that was it."
Feeling that the sack was inevitable because of the breakdown up front, Weis said he simply told Heaps as he came off the field that the only thing he could've done was hold onto the ball. After the game, with aches and pains popping up in places he'd never felt them, Heaps took the blame for coughing up the ball and described the play in greater detail.
"(Texas defensive end Jackson) Jeffcoat, who's a great player, came running free and I tried to get out of there and I just didn't secure the ball," Heaps said. "I didn't have two hands on the ball and you can't do that versus a good team like that because things like that will happen."
Neither Weis nor Heaps wanted to pinpoint which KU lineman failed to impede Jeffcoat's progress. But it hardly mattered. The pocket collapsed so quickly that Heaps had very little time to react, let alone think about securing the ball. Still, the quarterback who finished 11-of-21 passing for 160 yards and showed signs of life for the second week in a row, said he should have done better.
"Of course," Heaps said. "It's my job to secure the football. It's something I'll learn from, but, at the same time, it could've been the difference between us winning and losing the football game, so, yeah, I put that on myself. One play can change the course of the game. We hung in there and I think it was closer than the score says. We missed an opportunity for sure. And it's unfortunate because we really had them on the ropes for a while."
Credit the KU defense for that. Safety Isaiah Johnson picked up a pair of interceptions. Linebacker Ben Heeney returned to the field after a two-week absence and Jake Love, Heeney's partner in crime in the middle, continued to play like a Heeney mini-me. They finished with nine tackles apiece to lead Kansas, but could do only so much to slow down a Texas offense that got four touchdowns from running back Malcolm Brown and really took off after Whaley's fumble return.
"It just turned everything around," said Whaley, crediting UT's defensive ends for jarring the ball loose. "It lit sparks (for us) on both sides of the ball."
KU (2-6, 0-5) was not without its opportunities. But the offense continued to run into far too many obstacles, be them penalties, poor pass protection or a lack of rhythm. The screen game to James Sims (51 yards on five receptions) worked well early; true freshman quarterback Montell Cozart ran four times for 34 yards and added a late touchdown; Rodriguez Coleman (85 yards, two receptions) took another step forward as a down-the-field playmaker before exiting with an injury; and Brandon Bourbon and Darrian Miller also ran hard throughout the afternoon. It just didn't produce points.
"That was frustrating," Weis said. "It's been frustrating. Even missing the first field goal, that's frustrating. That's why I changed field-goal kickers. I'd seen enough. You can't be a 50-50 field goal kicker, especially when I'm not putting them in long ranges."
Added Heaps, who has remained positive despite suffering through one of the roughest stretches of his college career: "Of course we're frustrated. We want to get things going. We want to put a full game together and that's what we have to do."
Another loss it was, but not even the combination of the physical beating, the disappointing offense and the back-breaking momentum play could keep KU from looking ahead with hope from the small interview room underneath UT's stadium.
"We've got four games (left), and despite everything else, we have to go 4-0 to make a bowl game," said Heaps. "A bowl game is still possible for us, so we'll come back to work and continue to work hard."