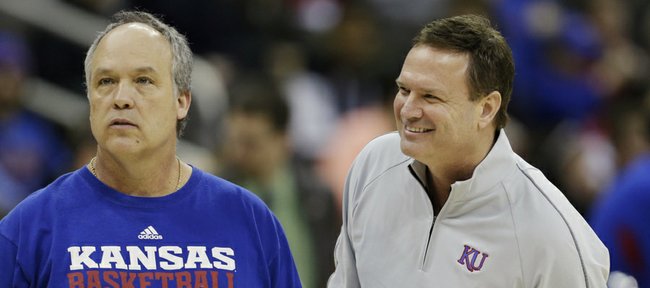 Doc Sadler, Kansas University's first-year director of basketball operations, is headed back to full-time coaching — at Iowa State.
"I'm excited for Doc. He did a great job here. Doc is a terrific coach and wants to be on the floor," KU coach Bill Self said of former Nebraska head coach Sadler, who on Friday was named T.J. Otzelberger's replacement as full-time assistant coach for the Cyclones. At KU, Sadler was involved on the administrative end, not hands-on coaching. At Iowa State, he'll be allowed to coach and recruit.
"Fred's (Hoiberg) position at Iowa State opened up, and he wasted no time in coming after Doc. Doc will be a huge asset for their team not only from a recruiting standpoint, but also as an on-the-floor coach. He's a terrific coach that loved what he did last year but missed getting a chance to work with the guys in practice. I think this is a win-win for everybody," Self added.
Self said he hoped to hire a director of basketball operations in a week or two. He has been well aware of Sadler's interest in the ISU job for at least a couple of weeks now.
"I have several scenarios (about a replacement) playing out. In a perfect world, I would like to have it done next week, but I'm not sure that is possible. I do anticipate announcing what we will do with that position in the next week or two," Self said.
Greenwood, Ark., native Sadler has a career head-coaching record of 269-146, with stops at Arkansas-Fort Smith Junior College, UTEP and Nebraska, where he was 101-98.
"I am thrilled that coach Sadler will be joining the Iowa State family," Hoiberg said. "Doc brings a wealth of experience to our staff and is respected in the profession. His Big 12 coaching experience and extensive recruiting background will help on the road and make him a very valuable member of our staff."
Sadler spent six seasons as head coach at Nebraska (2006-12) and three seasons as an assistant at Texas Tech (1991-94).
"I am excited to work at a program like Iowa State and for a coach like Fred Hoiberg, who has quickly become recognized as one of the best coaches in the nation" Sadler said Friday. "Having coached in the Big 12, I know how important home-court advantage is, and Hilton Coliseum is one of the best."
Sadler said he loved his season at KU and working with Self and his assistants.
"Great people," Sadler told the Lincoln (Neb.) Journal-Star. "You knew that competing against them, but you had no idea of how good of friends they would become."
"Probably about as fun a year of basketball as I had in a long time," Sadler told the Omaha World-Herald. Yet ... "I spent a year where I couldn't recruit and wasn't able to get on the floor and coach — and I realized how much I missed it. There's nothing like coaching players. Don't get me wrong: I realized how fortunate and lucky I was, but at the same time, I'm a coach. I want to coach," Sadler, 52, added. "Maybe if I was younger and I had a lot of years left, I'd look at it a little bit different."
Cyclones land Kane: Iowa State on Thursday landed former Marshall point guard DeAndre Kane, who will be immediately eligible next season. Kane, 6-4, averaged 15.1 points and seven assists for Marshall last season. Kane can play next season because he graduated from Marshall. He has one season of eligibility remaining.
"The coaches … who wouldn't want to play for coach Fred?" Kane told the Des Moines Register. "Coach Fred's been in the pros. His team plays that up-tempo offense that everybody wants to play. That style fits my game perfectly."
Kane chose ISU over Pitt and USC.