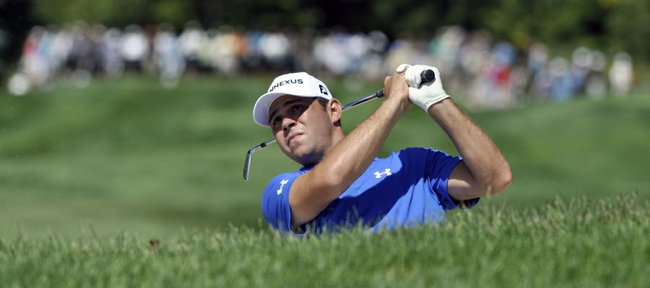 If you saw a man crushing a golf ball off the tee this past weekend at a local golf course and wondered why he's not on the PGA Tour, stop wondering.
Gary Woodland played a round Friday at Alvamar private, one Saturday at Wolf Creek in Olathe and another Sunday at Lawrence Country Club.
"Three pretty good tracks right there," Woodland said.
Get used to seeing him. Woodland said he plans to move into his Lawrence home next week, travel to tour stops out of here during the summer and reside in his Orlando, Fla., home during the winter months.
Woodland left Lawrence on Monday night for Tulsa, where, as he does every Memorial Day, he spent the day participating in the Patriot Cup. Each team in the tournament includes a PGA pro, two military golfers and two guests of Folds of Honor Foundation, a charity benefiting the families of lost or injured military members. Major Dan Rooney, a former KU golfer and F-16 pilot, founded the organization. Rooney served three tours in Iraq. His stories played a role in motivating Woodland to become a big supporter of the charity.
Woodland went from the Patriot Cup to resume tour play in Dublin, Ohio, where he tees off today in the Memorial Tournament on Jack Nicklaus' Muirfield Village Golf Club. Woodland finished sixth at the Memorial in 2011, the same year he won the Transitions, finished 17th on the money list ($3.448 million) and placed in the top 30 in all four majors.
His success and his reputation as one of the longest drivers of a golf ball on the planet led to extensive television exposure during tournaments. Now most of his TV time comes during frequently played commercials he does for Callaway.
Wrestling with wrist injuries
Injuries — to his left wrist last season, his right wrist this season — and inconsistent short game have undermined Woodland's standing on the money list. He placed 138th in 2012 with $592,879.10 earned in 22 events. Through 13 tournaments this season, he ranks 145th with $261,557.55.
His 2011 victory at the Transitions in Tampa, Fla., guaranteed him a spot on the tour through 2013. He must finish in the top 125 on the money list at the end of this season to keep his card.
Thanks to the results of a mid-March visit to a physician in New York who specializes in wrist injuries, Woodland is confident he has nothing about which to worry.
"She got on the phone with (swing coach) Butch Harmon, and they talked about changing my grip," Woodland said. "The way I was holding the club and moving through impact was causing pain. Since I changed the grip, I've been pain-free for two months."
Less pain means time spent resting his wrist now is used to practice. Since making the switch, Woodland has made the cut in seven consecutive tournaments.
The doctor told Woodland his abnormally high swing speed — he ranks third on the PGA Tour with an average driving distance of 304.1 yards, behind only Luke List and Nicolas Colsaerts — made him more susceptible to wrist injuries and necessitated a new grip.
"I was lying to myself, thinking I could just mentally overpower the pain," Woodland said. "I couldn't practice the way I wanted to, and when that happens you don't get results. When you don't get results, it's hard to play with confidence. I'm starting to see results now, and these past two months have been pretty exciting."
Woodland was in 2011 form for the first three rounds of the Byron Nelson Classic (May 16-19), firing 69-65-68 to enter the final round in a four-way tie for fifth. He blew up on the final day, carding a 79 to fall to 48th.
"It was great to get back in contention and get those feelings, that adrenaline again, even though I didn't handle it well on the final day," Woodland said. "I've worked so hard the past couple of months to get back, and I just got a little too juiced up. Just have to learn from it and continue to get better."
Shoring up short game
Woodland has turned to Northwestern University golf coach Pat Goss for help around the greens. Goss works with Luke Donald, who ranked No. 1 on the money list in 2011.
"He's a phenomenal short-game coach," Woodland said. "Bunker play, putting, chipping … he literally has changed everything. My stats in those areas already have gotten better."
Woodland said Goss will be at the Memorial this weekend.
"Now that Northwestern's season is done, he'll be traveling to a lot of tournaments to be with Luke Donald, so I'll see him a lot this summer," Woodland said.
Aside from his PGA purses, Woodland has lucrative contracts with Callaway and Under Armour, deals that have increased his fame. He said he was on vacation in Cabo San Lucas, Mexico, when a stranger told him, "You look a lot like Gary Woodland."
"I get that a lot," Woodland said.
"Are you Gary Woodland?" the stranger asked.
At that point, Woodland, a native of Topeka, introduced himself and enjoyed a conversation with another native Kansan.
"Callaway and Under Armour have been great partnerships," Woodland said. "Obviously, I need to continue to play well, and things will get bigger and better."