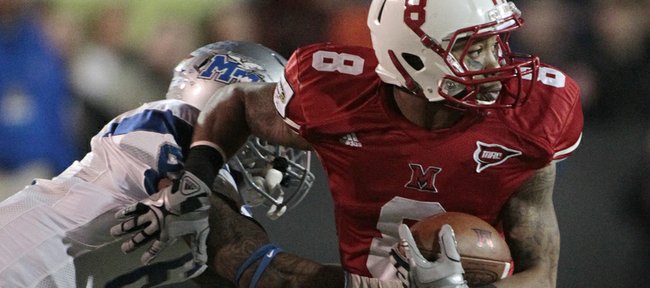 Kansas University quarterback Jake Heaps knows the importance of having a number of weapons at the wide receiver position which he can trust to make plays and come through in the clutch.
Perhaps that's the reason Heaps, a junior who is expected to start for the Jayhawks this fall after sitting out last season following a transfer from BYU, was so excited last Wednesday when the news broke about the addition of Miami of Ohio wide receiver Nick Harwell to the KU offense.
Heaps did not share his joy during a news conference nor reveal it in some sort of university press release announcing the pick up. Instead, the former five-star QB made his feelings known via Twitter with a couple of quick and pointed tweets.
Responding to one take, which suggested that the news of Harwell's addition sounded big, Heaps confirmed as much with the following: "'Cause it is."
He then followed that up by asking the KU fan base to go follow "the newest member of the family."
It makes sense that Heaps would be excited about Harwell coming aboard. The 6-foot-1, 193-pound senior-to-be, who has been clocked in the 4.5-second range in the 40-yard dash and bench presses 310 pounds in the weight room, brings to KU the presence of a wide receiver who has been there and done that.
Harwell represents a significant upgrade at the position for the Jayhawks. The most accomplished and experienced wideout on KU's two-deep depth chart before Wednesday was junior Andrew Turzilli, who, in two seasons, had hauled in 20 receptions for 324 yards and a touchdown in 15 career games. Harwell has the look of a big, athletic possession-type receiver KU's receiving corps was missing, a guy who can go over the middle, work in space and stretch the field. Perhaps more importantly, he appears to be the ideal complement for the varying skills of guys like spring game star Justin McCay, junior tight end Jimmay Mundine and emerging receiving threat Tony Pierson.
In three years at Miami, Harwell racked up 3,166 yards and 23 touchdowns on 229 receptions while accounting for 96 yards per game. During that same time period, from 2010 to 2012, all of KU's wide receivers combined tallied just 513 yards more (3,679) and seven fewer touchdowns despite snagging 110 more receptions.
It's not that Harwell will be replacing any of the KU wide receivers. Instead, he likely will be enhancing an offense with the potential to feature a dangerous passing attack. Heaps liked the look of KU's passing game before Harwell joined the squad.
"It's been fun to see that competition and that progression within the wide receiver group," the quarterback said this spring. "We're gonna get a couple more guys here in the summer and that'll add to the competition. It'll be fun."
Now that Harwell has become one of those summer arrivals, it's safe to say Heaps likes his targets even more.
"A lot of catches have gone and those were good players who had been here a while," added Heaps referring to KU's recent graduates. "But I think it's great for us to get some new blood, increase the competition and let these guys have an opportunity to compete for a spot."