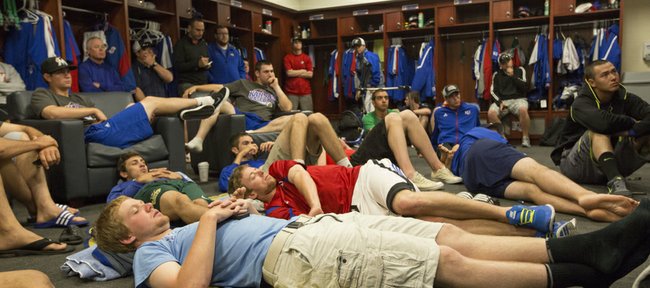 What started out as a hopeful and nervous locker room quickly turned into a ghost town, as members of the Kansas University baseball team began the painful process of closing up shop for the season after learning Monday morning that they had not made this year's NCAA Tournament field.
Fresh off Sunday's loss to Oklahoma in the Big 12 tournament title game, the Jayhawks gathered in their clubhouse to watch the unveiling of the field of 64 on ESPNU. Based on their overall body of work and the 68th-best RPI, most entered Monday with a realistic view of what was coming.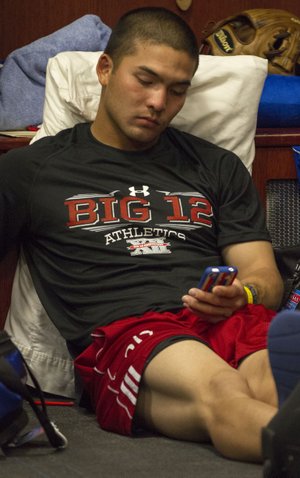 "Going into it, we didn't think we had that great of a chance," said senior ace Thomas Taylor. "But at the same time there was still that glimmer of hope. Obviously, it's disappointing."
As the participants for the 16 four-team regionals were announced two at a time, the locker room produced all kinds of sounds and emotions. At times, such as when clubs with losing records were announced into the field, there was almost a comical feel.
"Canisius?" one Jayhawk was heard saying with a smile and a helpless laugh.
Canisius, along with nearly two dozen others, made the NCAA Tournament by winning its conference tournament. Jackson State, a team KU drubbed 11-0 in March, and Wichita State, whom the Jayhawks swept in a home-and-home series, did the same.
At other times, such as when Big 12 foe Oklahoma State was shown on the television screen, the mood of the Jayhawks became a little more disheartened.
"That one definitely hurt the most," said senior shortstop Kevin Kuntz. "Especially since we had beat them in the Big 12 tournament (last Friday) and really all year (KU won two of three during the season series). But, obviously, they had a good enough record going in and had won all the games they needed to even though we beat them."
Oklahoma State, Oklahoma and Kansas State were the only three Big 12 schools invited to regional play. That, more than anything, best illustrated that the selection committee viewed this as a down year for the league, even though the Jayhawks fared well in conference play and came out on top of more Big 12 weekends than they lost.
"Being in a power conference, it's kind of a bummer getting left out," Kuntz said. "We figured there would be more than three (Big 12) teams get in."
It was not just the late-season, six-game losing streak to Kansas State and Utah in back-to-back weekends that cost the Jayhawks. They also struggled to win out-of-conference games early in the season and, in the end, that took a toll on their overall body of work.
"Skip (KU coach Ritch Price) preached to us all year that we had to take care of the midweek games," Taylor said. "And we lost a couple of those that we shouldn't have."
Despite coming up short of their ultimate goal and first NCAA Tournament appearance since 2009, the Jayhawks were able to see the positive as they packed up their belongings and shut down the clubhouse for another offseason.
"Just to get to the Big 12 championship and have that opportunity was awesome," Taylor said. "We didn't have that much confidence going into it, but when we got there we thought we were gonna win it. It's a big deal to get that far after everything we went through this season."
Added Kuntz: "It was nice to at least rebound and play in the championship and go out with a bang. It was definitely a lot better to end on that note than losing nine straight. That was awesome. We came back and did what we needed to do, we were just that short."
KU finished the season with 15 total Big 12 victories and a 34-25 overall record.