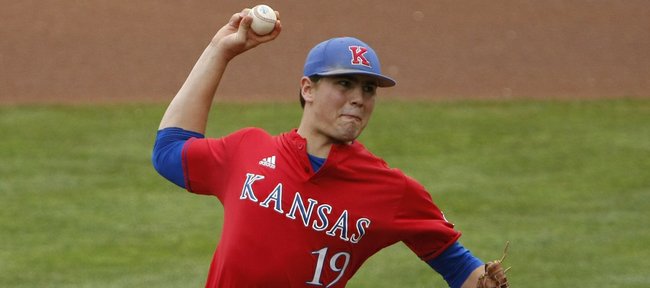 The Kansas University baseball team's charge toward the Big 12 tournament title came up one victory short Sunday in Oklahoma City, as the sixth-seeded Jayhawks fell to No. 4 seed Oklahoma, 7-2, in the championship game.
Despite the loss, KU coach Ritch Price believes his team made enough of a statement this week and this season to merit inclusion in the NCAA Tournament field when it's announced today.
"I feel like our team did everything they could do with the exception of winning today and capturing the automatic berth," Price said. "Us and Oklahoma were the only two teams that won three games down here this week, and, if you look at it, we beat the second-place team in the league, we beat the third-place team in the league, and if you add the conference tournament games into the standings, we now have the third-best record in the league."
Baseball America's Sunday projection had just three Big 12 teams getting into the NCAA Tournament, and Price said he thought that was unfair.
"When you play in a power conference like we do, you gotta play well every single week or you get beat," he said. "It will be unfortunate if the Big 12 is just a three-bid league, but some of those games in the mid-major conferences didn't go our way.
On Sunday, the only thing KU could control also did not go its way. Price's club fell behind 3-0 in the top of the first inning and never could close the gap. The Jayhawks scored one in the first and added another in the fifth, but never crawled closer than three runs the entire day.
A victory Sunday would've guaranteed Kansas a spot in the NCAA Tournament, but now the Jayhawks must sweat out their fate.
This team got used to life on the NCAA Tournament bubble throughout the final few weeks of the regular season. One week, two or three big wins would leave the Jayhawks feeling good about their chances, and the next week three losses would dampen their spirits.
"We've grinded," Price said. "And we've overachieved. We took care of everything we could control with the exception of winning (Sunday)."
KU (34-25) reached a season-low Monday, when a loss to Utah dropped its losing skid to six straight games, after playing host to conference champ Kansas State just a weekend earlier for a series that could have propelled KU into first place in the Big 12 standings.
Instead of letting their late-season skid define them, the Jayhawks bounced back with three straight pool-play victories to advance to Sunday's title game. KU knocked off No. 3 West Virginia on Thursday, No. 2 Oklahoma State on Friday and shut out No. 7 TCU on Saturday night.
"I think our kids made a big statement this week," Price said.
Beyond its strong showing in the Big 12 Championship this weekend, Price believes KU's regular-season success should count for something.
"I feel like what this team accomplished should be really commended," said Price of his squad that finished 12-12 during regular-season conference play and turned in its best season since 2010.
All-tournament team
KU's 3-1 record in Big 12 tournament play this weekend landed four Jayhawks on the all-tournament team.
Shortstop Kevin Kuntz, designated hitter Connor McKay, outfielder Michael Suiter and closer Jordan Piché all were named to the 12-man team.
Oklahoma ace Jonathan Gray was named the tournament's Most Outstanding Player.
Watch party
After spending 12 straight days together on the road, the Jayhawks will not spend much time apart. After a good night's sleep upon returning from Oklahoma City, they'll get together late this morning to learn their NCAA Tournament fate.
"We're gonna meet in our clubhouse just prior to 11 o'clock, and we'll watch it with our players," Price said of the tourney selection show. "Right now, all we can do is sit and wait."
More like this story on KUsports.com