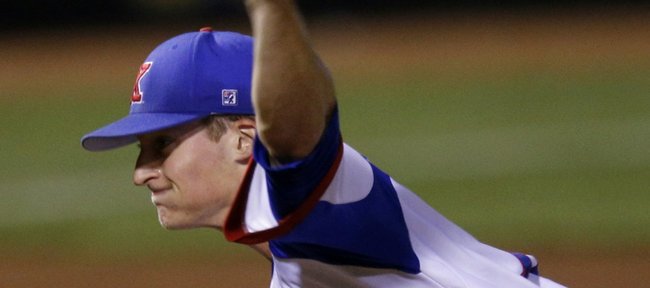 Oklahoma City — Kansas University struggled to end the baseball regular season, but it's starting off the postseason with a bang.
The sixth-seeded Jayhawks beat second-seeded Oklahoma State, 5-3, in a game that ended early Saturday morning to improve to 2-0 in their pool of the Big 12 tournament.
A win tonight over seventh-seeded TCU would put the Jayhawks (33-24) into Sunday's championship game.
KU — which ended the regular season by dropping three in a row to Kansas State at Hoglund Ballpark then losing three more on the road at Utah — collected 10 hits against OSU (39-16) to make a winner of Frank Duncan.
Duncan (4-5) threw two scoreless, hitless innings before Jordan Piché closed it out with 1 1/3 hitless shutout innings. It was Piché's 11th save.
Kansas plated a single run in the first.
OSU made it 2-1 in the fifth, but Kansas promptly tied it in the bottom of the fifth.
The Cowboys made it 3-2 in the sixth, but the Jayhawks plated two in the seventh — Tucker Tharp's first home run of the season and an RBI single by Michael Suiter — to take the lead for good.
Kansas added an insurance run in the eighth.
The Jayhawks will face TCU at 7:30 tonight. TCU is 1-1 in pool play.
Kansas State and Oklahoma improved to 2-0 in the other pool and will meet at 12:30 p.m. The winner will advance to the championship game at 1 p.m. Sunday.
Oklahoma State 000 021 000 — 3 6 3
Kansas 100 010 21x — 5 10 2
W — Frank Duncan, 4-5. L — Tyler Nurdin, 4-3. Sv — Jordan Piché, 11.
2B — Zach Fish, OSU; Dakota Smith, Tucker Tharp, KU. HR — Tharp, KU.
KU highlights — Duncan 2 IP, 0 H, 4 Ks, 0 R; Piché 1 1/3 IP, 0 H, 0 R, 1 K; Tharp 2-for-4, 2 R, RBI; Smith 2-for-3, R; Michael Suiter 2-for-4, RBI.