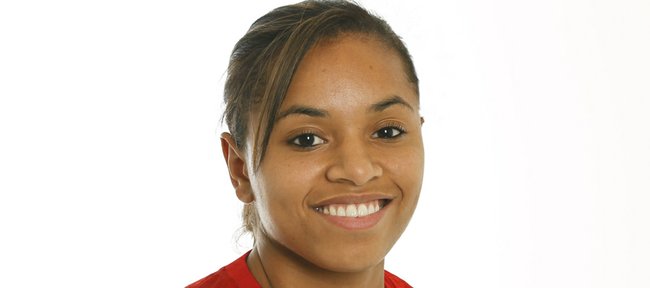 Former Kansas University point guard Angel Goodrich was named Friday to the opening-day roster of the Tulsa Shock.
The Shock tapped Goodrich No. 29 overall in the 2013 WNBA Draft.
"I just feel stress-free and relieved," Goodrich said. "This has been a great experience. Camp was extremely competitive, and for me to make the roster … the one word that keeps coming to mind is blessed. There were a lot of guards in camp, and it was really competitive, which is exactly what the coaches want and expect. I'm just glad to have made the team."
The Shock will open the regular season today at Atlanta.
At 2 p.m. Monday, Tulsa will host Washington in a game that will be televised on ESPN2 (available locally on Wow channels 34 and 234).
During the preseason, Goodrich played 61 minutes combined in all three games.
In the final game, the Shock's only victory, Goodrich started and had eight assists with six points over 34 minutes.
Goodrich joins Nakia Sanford (Seattle Storm) as former Jayhawks in the WNBA this season.
Another ex-Jayhawk in the WNBA, Danielle McCray of the Connecticut Sun, suffered a torn Achilles tendon in April and will miss the season.